Nuclear deal 'meaningless' if IAEA probe goes on: Raeisi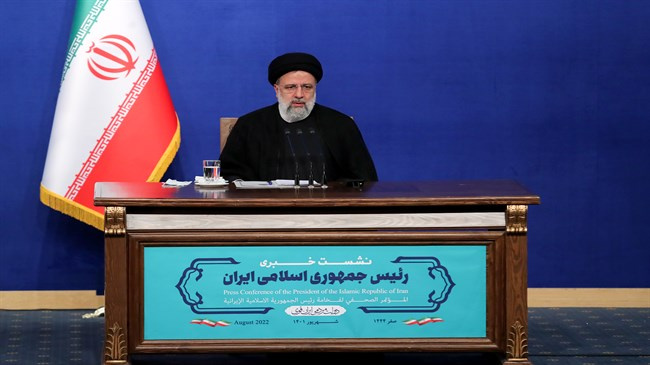 President Ebrahim Raeisi on Monday reiterated that Iran's demands, including an end to the UN nuclear watchdog's probe of alleged traces of uranium, must be met in any agreement to restore the 2015 nuclear deal, known as the JCPOA.
In a news conference marking his first year in office, Raeisi said the JCPOA revival would be "meaningless" if "political claims" are not tossed out, referring to a request by the International Atomic Energy Agency (IAEA) to inspect what it calls three undeclared nuclear sites in Iran.
"What we are seeking in an agreement is reassuring guarantees, objective and practical verification of the lifting of sanctions, the lifting of sanctions in a meaningful and sustainable way, and the closure of political claims related to safeguards," Raeisi told reporters in the capital Tehran.
"In the negotiations, safeguards issues are one of the fundamental ones. All of the safeguards issues must be resolved," he said.
"Without resolving the safeguards issues, talking about the agreement is meaningless," the president added.
Iran has repeatedly urged the IAEA to end the issue before any revived deal is implemented.
In June, the IAEA's Board of Governors adopted a resolution, accusing Iran of failing to adequately explain the previous discovery of traces of enriched uranium at three sites where the agency claims Tehran had hosted nuclear activities. 
US intelligence agencies and Western nations have accused Iran of running a secret nuclear weapons program until 2003. Iran long has denied ever seeking nuclear weapons.
"Nuclear weapons have no place in our defense doctrine," Raeisi stressed on Monday.
The talks in Vienna, which began in April last year, aim to return the US to the JCPOA – four years after its unilateral walkout – and lift sanctions on Iran.
Raeisi hit back at Israel over its threats of attacking Iran's nuclear sites.
He said if Israel decides to carry out its threats to destroy Iran's nuclear program, "they will see if anything from the Zionist regime will remain or not."
At his first news conference, Raeisi simply said "no" when asked if he would meet with US President Joe Biden. Asked again Monday as the UN General Assembly looms next month, he stuck to his earlier answer.
"There is no benefit for a meeting between us and him," the president said. "Neither for the Iranian nation nor for the interests of our great nation."
Source: Iran Daily