Iran envoy rejects reports of Russian offer for interim deal on JCPOA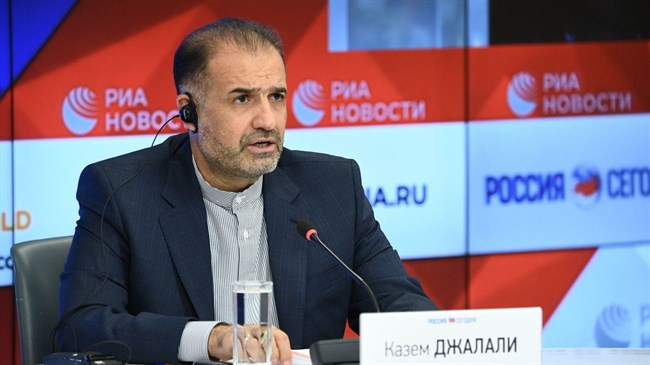 Iran's ambassador to Moscow on Sunday flatly denied reports that Moscow had offered Iran to agree to an interim deal to revive the 2015 nuclear accord during a visit by President Seyyed Ebrahim Raisei to the country last week.
The news of Russia's offer to Iran for a temporary nuclear deal on the JCPOA "is absolutely false and it is a lie," Kazem Jalali told ISNA.
The comment came after NBC News quoted two US officials as saying that Russia has discussed a possible interim agreement with Iran in recent weeks that would involve limited sanctions relief in return for reimposing some restrictions on Tehran's nuclear program. It added that the US is aware of Russia's proposal to Iran.
Jalali said such claims showed Western media were not aware of the content of the talks between Raisei and his Russian counterpart Vladimir Putin.
"They are spreading lies," the envoy added.
The two presidents met in the Kremlin on Wednesday and discussed a wide range of issues including the ongoing talks in Vienna between Iran the remaining parties to the JCPOA – France, Britain, Germany, Russia and China.
The Vienna talks began in April last year with the aim of reviving the JCPOA by bringing the United States back to compliance almost four years after its unilateral pullout and was followed by its reimposition of sanctions on Iran.  
A source close to the Iranian negotiating team also dismissed reports on an interim agreement, reiterating that Tehran insists on achieving a lasting and reliable deal.
"As mentioned several times before, plans for an interim agreement have never been on Iran's agenda, and the Iranian team seeks to achieve a sustainable and reliable agreement," the source told IRNA.
The source made it clear that an interim deal remains off the agenda of the Iranian team.
Source: Tehran Times