Iran FM says 'important consensus' achieved in meeting with Chinese counterpart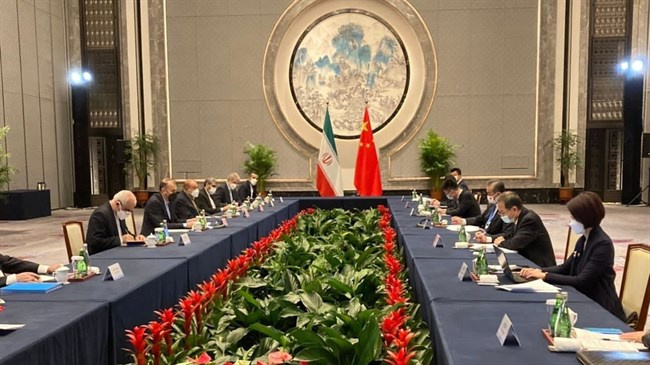 "At the beginning of the new year in 2022, I am delighted to embark on my first visit to China since taking office. In the beautiful Wuxi, Jiangsu, I exchanged views with Chinese State Councilor and Foreign Minister Wang Yi on a wide range of issues such as the comprehensive cooperation plan and the Vienna talks, and reached important consensus," Amir-Abdollahian tweeted in Chinese after meeting Wang in eastern city of Wuxi, referring to a 25-year partnership agreement between the two nations and the ongoing negotiations in the Austrian capital for the revival of the 2015 Iran nuclear deal.  
He arrived there earlier in the day, heading a high-ranking political and economic delegation.
In his tweet, the top diplomat hoped that Tehran-Beijing relations would further improve.
"China's Year of the Tiger is approaching. I wish the relationship between the two countries will be leaps and bounds as we enter the second 50th year," Amir-Abdollahian added.
"I also wish that the Beijing Winter Olympics, which will be held during the Chinese Spring Festival, will bring vitality to the world under the epidemic!"
Upon his arrival in China, Amir-Abdollahian said Tehran and Beijing have made "very good progress in various issues in line with the interests of both sides", adding "in the new [Iranian] government, we are facing more acceleration" of enhancing relations".
"Strategic issues are on the agenda of the two countries, and these issues have created a new atmosphere in the correspondence between the presidents of the two countries," he pointed out, according to Press TV.
Iran and China signed the strategic partnership agreement in March last year in defiance of the US sanctions.
The deal officially documents the Sino-Iranian Comprehensive Strategic Partnership that had been announced during a visit by Chinese President Xi Jinping to Tehran in 2016. It sets the outlines of the two countries' cooperation in political, cultural, security, defense, regional, and international domains for the next 25 years.
In an article published by China's Global Times newspaper on Thursday, Amir-Abdollahian described his visit as a "promising horizon" for Tehran and Beijing's promotion and development of cooperation in various domains.
"Together, Iran and China resolutely defended their territorial integrity and national sovereignty, protected multilateralism, and opposed unilateralism. They criticized the approach of introducing democracy as a patent of superpowers and, with their indigenous democratic systems, demonstrated to the world true democracy, common values of human society, justice and freedom," he said.
Source: Iran Daily