Everyone Reformists Named as Tehran's Next Mayor
Reformists are weighing their candidate as Tehran's mayor. Here's a review of who is in and who is out.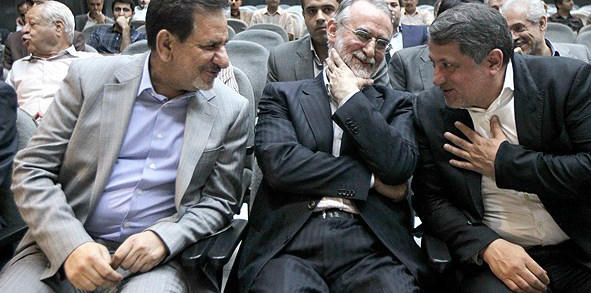 (Picture: Mohsen Hashemi Rafsanjani (right) and Eshaq Jahangiri (left), candidates for Tehran mayoralty.)
With the outcome of Tehran's fifth city council election announced, most sitting members of the council must bid farewell to the council's building located in Behesht (Paradise) street. The ouster of Mohammad-Bagher Qalibaf, Tehran mayor for 12 years, is also certain, with an ongoing debate over candidates that could potentially succeed him as mayor.
The discussion over Qalibaf's leaving office was brought up even before the recent presidential race and the countdown has now officially started as the pro-reform list of candidates is fully voted in. However, this is not the only being talked about.
What has turned into a shared concern among civil and social activists is the capital's next ruler, with different names popping up every day for the very significant, influential position. Sometimes, Vice President Eshaq Jahangiri is reported to be a potential candidate and sometime Mohsen Hashemi, son of the late Akbar Hashemi Rafsanjani, is put forward. The names of former parliament MP Hossein Mar'ashi and Reformist technocrat Mohsen Safaei Farahani is also brought up.
Before going through the list of hopefuls, we shall see what has given Tehran Municipality such a great significance.
The first and foremost about in the Municipality and its director is the widespread and influential media, particularly the high-circulation Hamshahri, being published under its supervision. These outlets could very well reflect the views of the Reformists, turning into a proper base for the camp. This media potential is of course usable only if the next mayor has a positive attitude toward media.
Banke Shahr (the City Bank) is another issue, leading to the significance of the Municipality. The bank was founded by Mohammad-Bagher Qalibaf and its stocks belong to municipalities in small towns and metropolises alike, employees of the Municipality, and ordinary individuals. Moreover, Tehran Municipality has many organizations drawn together under its umbrella, including but not limited to Tehran Municipality's Inspection Organization, Tehran's Sport and Fitness Organization, Beheshte Zahra Organization (the largest cemetery in the country), Tehran's Renovation Organization, Organization for Fruits and Vegetables Plazas, Tehran Municipality Real Estate Organization, and the Culture and Arts Organization.
In sum, Tehran Municipality is one of the most influential urban institutions, being under Principlists' control for years. It is now the Reformists' turn to enter the Paradise office with popular votes. However, the main candidate has not emerged yet. As mentioned earlier, different individuals have been put forward in the cybersphere, including Eshaq Jahangiri, Deputy Transportation Minister Pirouz Hanachi, and Morteza Haji whom we will briefly discuss below:
One of the most renowned candidates mooted as a candidate for the mayor's chair these days, Jahangiri turned heads from moderate and pro-reform camps during the presidential race. However, some observers believe that he could be more influential if he continues to serve as the Vice President, due to his position in the Resistance Economy Headquarters and his close relationship with the Supreme Leader Ayatollah Ali Khamenei.
Another hopeful proposed even before the election is Mohsen Hashemi Rafsanjani (son of the late Ayatollah Rafsanajni) who is still named as a suitable option to replace Qalibaf. However, this is growing to be less likely, as the secretary of the Reformist Policymaking Council has stated that those voted into the city council will not be considered in the selection of the mayor. The same applies to Morteza Alviri, a former Tehran mayor.
Nonetheless, one of the names warmly welcome in the cybersphere was that of Mohsen Safaei Farahani. He is one of the very few people who have registered a good managerial profile in politics, economy, and sport, in the latter field as head of Iran's Football Association. Though his nomination has not been confirmed, many have posted his photos in their social media accounts in support.
Mohsen Mehralizadeh is a more likely option for Tehran mayor. He has established Kish Free Zone as Iran's first tourism destination, developed economic ties between Khorasan Province and other countries in the region and the world, built the grand recreation-sport complex of Kish, held sport events, founded a support fund for sport champions and veteran athletes. He served President Mohammad Khatami's governor in Khorasan during the first term, and vice president for physical education affairs during the second.
Mehralizadeh is not the only serious hopeful, either, because Hossein Mar'ashi's name is also coming from various sources, who insist Mar'ashi is quite likely to be presiding over the Municipality. Hashemi Rafsanjani's bureau chief at the time of his presidency, and Kerman governor for eight years, Mar'ashi was appointed as the director of Iran's Cultural Heritage and Tourism Organization under President Mohammad Khatami.
Several Reformist activists have also proposed Abbas Akhoundi, the Rouhani administration's Roads and Urban Development Minister (RUDM), as a potential candidate. However, his mayorship seems to be quite unlikely.
Other names, put forward, include: former minister of cooperatives and later minister of education under Khatami's pro-reform administration Morteza Haji, the first director of Iran's Research and Studies Center for Urban Development and Architecture and the current deputy director of the RUDM's Construction Engineering Organization Pirouz Hanachi, and the director of the Construction Engineering Organization in Tehran province Habibollah Bitaraf.
The mystery of Paradise is still a hot topic for the media and social networks but as Morteza Alviri said, the answer is expected within a month. It should be noted that the individuals named here are among the hopefuls mooted, but it is still likely that Tehran's mayor not be in among them.
* This article was originally published in Fararu website. Minor information were added in the translation.