Principlists Shift toward Conservative Candidate Ebrahim Raisi
Major Principlist figures, formerly hopefuls themselves, are leaning toward Ebrahim Raisi. One of the latest examples is former nuclear negotiator Saeed Jalili.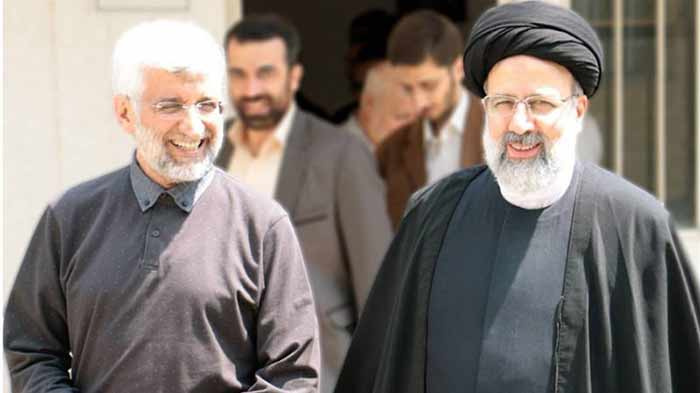 So far, conservative presidential candidate Ebrahim Raisi is taking a lead in the Principlist camp. Whether it is an election game or not, noone knows if everything is going to reverse in the last minute, with Raisi withdrawing in favor of Tehran Mayor Mohammad-Bagher Qalibaf. The Combatant Clergy Association, the hardliner Paydari Front, the three disqualified hopefuls Zahedi, Zaribafan, and Zakani, a withdrawn candidate named Abbasi, and Saeed Jalili who abstained from the election, have all openly sided with Raisi.
On Saturday, Saeed Jalili, i.e. Paydari's 'best-choice-candidate' in the 2013 election went to meet Ebrahim Eaisi, i.e. Paydari's 'best-choice-candidate' candidate for the 2017 presidential race. From among political parties and factions, the Combatant Clergy Association has endorsed Raisi officially while the Paydari Front backs him unofficially. The Paydari Front withdrew its endorsement before the Guardian Council announced the results of its vetting process. "Raisi is one of the main candidates of the Front as we have reach an agreement on him with the Popular Front of Revolutionary Forces. However, we should wait for the vetting results and then announced our endorsement," Paydari member Mohammad-Javad Abtahi told reporters. "This does not mean the Front does not trust Raisi. We just wanted to think twice," he added.
Members of the Paydari Front had already quoted their spiritual father Ayatollah Mesbah Yazdi saying Ebrahim Raisi was the fittest candidate and should be supported. Saeed Jalili, who visited Raisi on Saturday, was the Front's candidate back in 2013. His activities over the past year indicated his resolve to run for office. However, he suddenly pulled back and refused to sign up for the race.
He announced in a statement that one of the candidates already registered was more befitting than others, deserving the vote. His yesterday meeting with Raisi clarified whom he meant. It was not unlikely after Mesbah Yazdi's endorsement of Raisi and given the deep differences between Qalibaf advocates and the Paydari Front in 2013.
Paydari Front posted a statement on its Telegram channel last week, which was immediately removed. The central council of the Paydari Front called on 'all its diligent, indefatigable, humble members and advocates across the country', to use every legitimate way in order to present Ayatollah Raisi as the fittest revolutionary candidate and encourage everyone to vote for him.
From among Principlist figures, two disqualified candidates, Massoud Zaribafan and Mohammad-Mahdi Zahedi, both former members of the Ahmadinejad administration, have sided with Raisi, saying they would offer their own campaign headquarters and minions to Raisi. Ahmadinejad's Sport Minister Mohammd Abbasi also withdrew in favor of Raisi before the vetting results were announced.
The disqualified Alireza Zakani is also in Raisi's sqaud. He was the main candidate to direct Raisi's campaign headquarters before Ahmadinejad's Housing and Urban Development Minister Ali Nikzad took the post.
Nikzad was appointed Raisi's campaign director on Saturday, according to Ebrahim Raisi's Telegram channel. He was among Ahmadinejad's main ministers, who joined him in an entourage of Esfandiar Rahim Mashaei when he was registering for the 2013 presidential race. Prior to the appointment, former Ahmadinejad's petroleum minister Massoud Mirkazemi and former IRIB director Ezzatollah Zarghami were named as major candidates. For a few hours yesterday, former MP and Raisi's rival before the Guardian Council's disqualifications Alireza Zakani was announced as the campaign director. All of sudden, Nikzad replaced him while Mirkazemi was appointed chairman of the campaign's planning committee. Some observers believe that the replacements indicate differences within the Principlist camp, or at least in Raisi's circle.
These differences may be in part due to Ahmadinejad's disqualification. Some believe that Nikzad has been chosen in order to attract ballot's from Ahmadinejad's voter base, who seems to be confused with the options it is left with: to abstain vote or to vote for a candidate affiliated with either the Reformists or the Principlists. The confusion could be seen between the lines of texts posted to their Telegram or other social networks.
Nikzad's appointment is noteworthy in that he was rumored to be among the Ahmadinejadites' potential candidates back in 2012. Speaking of the rumors of his candidacy in 2013, he said Ahmadinejad had told him to neither confirm nor deny the reports, before he opted for Esfandiar Rahim Mashaei, who was in the end barred by the Guardian Council.