Russia Has Taken Syria as Hostage to Get Concessions from West
For Moscow, Damascus is a card it could use to extract concessions from the West and get rid of sanctions. By Ali Bigdeli.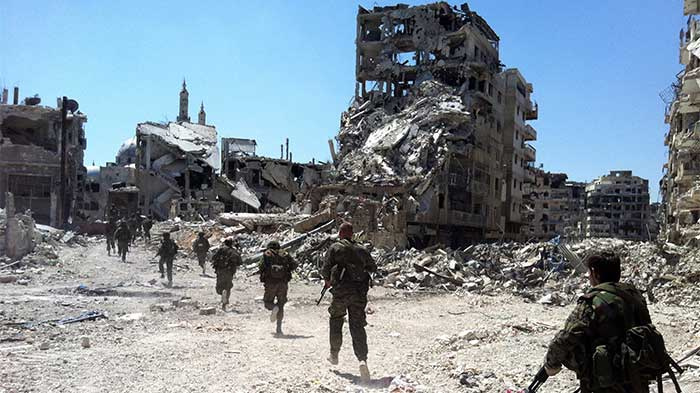 The Syria file, now an international concern, has been a multi-stage war in the last six years. At its first stage, the war was domestic in nature, with opposition protesting against Bashar Assad. At the second stage, it turned into a proxy war with other countries involved, with a wider scope, causing friction among countries in the region. At the third stage, the Syrian war morphed into an international phenomenon in which trans-regional countries were also involved, making the situation as chaotic as an international conflict. Particularly since Russia stepped in, the Syrian war turned into an intricate, painful saga increasingly difficult to resolve.
The first tripartite partnership which emerged in the region during the Syrian war was one formed among Turkey, Saudi Arabia, and Qatar. For certain reasons, the partnership failed. It was then that Turkey turned toward Russia and announced readiness to join the Shanghai Cooperation Organization (SCO). Other motives were that Turkey had failed to reach an agreement with the European Union on the one hand and had differences with the United States over Fethullah Gülen. Therefore, Ankara adopted an East-facing policy. This policy also proved futile due to Erdoğan's differences over Muslim Brotherhood with some countries.
The Turks leaned toward Iran afterwards. It was in the same line that Turkey attended Astana talks with Russia and Iran, where they agreed over recognition of Syria's territorial integrity and even Bashar Assad was supposed to be accepted as part of the final solution. However, two days after the talks, former Turkish Prime Minister Ahmet Davutoğlu said Assad would not have a say in Syrian peace talks.
The comment changed the course of Astana talks. Turkey approached the US and Saudi Arabia once again, shaping another triangle, which is quite dangerous: Turkey, Saudi Arabia, and Israel. On the other hand, there emerged a smaller trilateral partnership among Egypt, Jordan, and Qatar who floated the idea of establishing a united army for Syria. Predictably, the plan will not succeed because of the long-time differences among the six countries. Under such circumstances and on March 7, Russian, Turkish, and US joint chiefs of staff held a conference. One of the main objectives behind the meeting was to push out Iran from Syria since Tehran's active involvement in Syria has turned into a serious challenge for these countries. On the other hand, because of its hostility toward Bashar Assad, Saudi Arabia is sparing no effort to oust him. With Assad ousted, Iran will be naturally removed from Syrian affairs. In turn, Iran's link to Hezbollah will be practically interrupted. Therefore, Iran is singlehandedly facing regional campaigns.
Almost a month ago, the Russian Foreign Ministry spokesman elaborated for nearly twenty minutes that the ties between Russia and Iran remain unaffected. However, from the viewpoint of Russia's pragmatic diplomacy, it seems that Moscow will gradually move away from Iran. That is because Russians have taken Syria as a hostage to pressure the United States and persuade it to give up sanctions against Russia, a goal that has not yet been realized.
However, today Russia is the most important player in Syria. Although Moscow uses Iran's resources in the country, its definite strategy in Syria is to get concessions from the West. In doing so, Russians could not care less if they abandon Iran midway. Iran has endured serious casualties in Syria while Russians have only dropped bombs and missiles from above. Moscow is pursuing a political game in Syria, hoping to use Damascus as a card to extract as much concession as it can from the US. Nonetheless, the complex stage in Syria means Russians have a complicated mission to accomplish. The Syrian crisis will not be resolved without Iran's official and direct participation.
* This is a translation of an original Iranian Diplomacy article. Ali Bigdeli is an expert in Middle East affairs.