Ayatollah Hashemi Rafsanjani, A Pillar of the Revolution
Kaveh L. Afrasiabi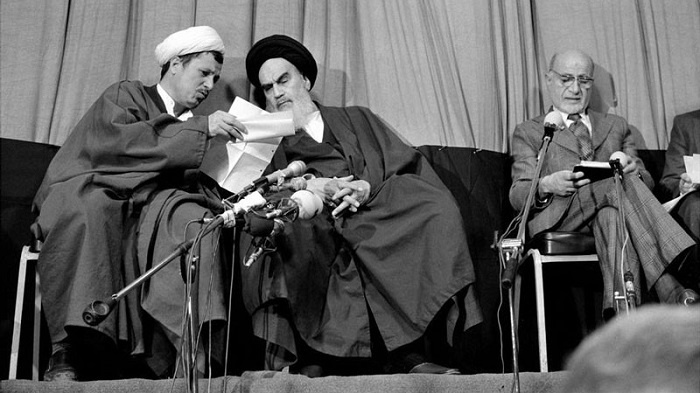 (Picture: A young Hashemi Rafsanjani sitting beside Ayatollah Khamenei in the early days of the Islamic Revolution, during inauguration ceremony of the first post-revolution prime minister Mehdi Bazargan (far right)).
The untimely passage of Ayatollah Hashemi Rafsanjani has saddened the Iranian nation, mourning the loss of a former president and consummate politician whose tremendous contributions to his country have left a rich legacy that will enlighten generations of Iranian people. A trusted 'right hand' of the founding father of the Islamic Revolution Ayatollah Khomeini, Rafsanjani was a revolutionary leader par excellence, combining his religious and political credential into a shining example of post-revolutionary impulse that was authentic, pragmatic, progressive, and always dynamic. There is no doubt that history will judge him warmly as a leading Shia thinker and a nationalist who was above all a worldly intellectual keenly aware of his historic mission in guiding the ship of revolution through so many troubled waters, beside the Supreme Leader, Ayatollah Khamenei.
As with other Third World revolutionary leaders, Rafsanjani exemplified the will to independence of a heroic nation with ancient history, subjected in modern times to numerous interruptions and foreign interventions that often took ugly forms, such as the coup of 1953 and the unprovoked invasion of 1980 and the bloody eight years battle that followed. A full account of Rafsanjani's critical role and unique contributions during the 8-year imposed war has yet to be written and fully appreciated. Without doubt, Rafsanjani played a key role in bringing the war to a conclusion and it reflected his visionary leadership, as readily confirmed today by the mere fact that Saddam Hussain and his Baathist regime have been destined to history's dust bin while the Islamic Republic of Iran thrives and is an envy of the whole region. In terms of historical comparison, Rafsanjani deserves comparison with Iran's "first reformer" Amir Kabir, the 19th century prime minister, who was also revered by Rafsanjani in his book on Amir Kabir. "Iran would have made great progress had it not been for the removal of Amir Kabir by colonizing foreign powers," Rafsanjani had written. 
Fortunately, Rasfanjani, who survived an assassination attempt, was able to complete a long tour of duty for Iran spanning several (tumultuous) decades and himself evolving along with the revolution. The seasoned politician's evolutionary world view encompassed both the domestic and foreign realms and on the whole reflected a moderate and progressive sociability that was in tune with the requirements of changing times and historical progress in Iran's traditional and multi-ethnic society that needed to pace itself and maximize its potential and resources in order to survive and thrive in a relatively tough and inhospitable neighborhood that is today's Middle East. 
As Iran's president, Rafsanjani was the first Iranian to propose the idea of collective security in Persian Gulf, an idea that was, and continues to be, rebuffed by Saudi Arabia and other Western-dependent Persian Gulf countries. Also, Rafsanjani spearheaded the idea of regional cooperation, for example by promoting the regional organization Economic Cooperation Organization, as well as inter-regional trade. Simultaneously, Rafsanjani never once wavered from the ideal of Muslim unity and was a fierce opponent of sectarianism. He also favored détente with the West and was open to resumption of relations with all countries in the West as long as they respected Iran's rights and sovereignty. The paradigm of pragmatic foreign policy that Rafsanjani innovated is still highly relevant today and for sure will be for decades to come. 
Iran will always remember Rafsanjani as a special gift to the nation, whose wisdom, passion and spirit shown in his remarkable contributions to both the revolution and then nation and state-making in Iran will be a source of inspiration for this generation and the ones to come.