Friday Prayers across Iran: Aleppo and ISA
Friday prayers on December 16, 2016.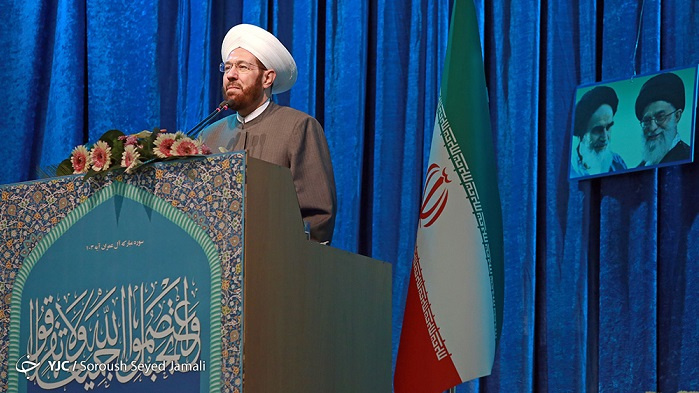 (Aleppo-born Grand Mufti of Syria Ahmad Badreddin Hassoun served as pre-sermon speaker of this week's Friday prayers in Tehran. Source: Soroush Seyyed Jamali/YJC)
Friday prayers of this week in Tehran focused on the liberation of Aleppo by Bashar Assad's forces, and criticism agains1t the US' Congress for extending the Iran Sanctions Act (ISA) despite expectations inside Iran that with the nuclear deal, the JCPOA, Washington would stop enforcement of those punitive measures.
In Tehran, Mohammad Emami-Kashani, who was imam of Friday prayers this week, scolded Americans for continuing sanctions against Tehran. "You were not supposed to this [extension], and Obama was supposed to veto the act. Why did you backtrack on your words?" he asked. In Shiraz, reminding that "the Supreme Leader had stated that the US will not fulfill its promises before, during, and after [nuclear] negotiations", Asadollah Imani criticized those officials who "jubilated" over the agreement. Imani called on officials to follow Ayatollah Khamenei's guidelines and stop implementation of the JCPOA if its violated by the other side. In Qazvin, Friday prayers' leader Abdolkarim Abedini criticized "domestic tyrants", an indirect reference to Hassan Rouhani and pro-deal figures, for their misconduct in nuclear talks, calling them to "repent and apologize to the people".
In capital Tehran, Emami Kashani also addressed the liberation of Aleppo from anti-Assad insurgents. "Aleppo was the juncture where it became clear who the Sufyani and the Dajjal are" he said, referring to two evil figures of apocalyptical age in Shia theology, adding that Americans and 'Zionists' bear the features of Dajjal, while Saudis, who "have turned Islam into a tool of Dajjals", are the Sufyanis. In Shiraz, Asadollah Imani congratulated the liberation of Aleoppo despite "petrodollars of Saudi Arabia and some other countries" spent in the Arab country and creation of a global consensus against Assad. In Qom, Friday prayers' leader Hashem Hosseini Boushehri also praised the Syrian nation, for expelling 'invaders'. Bushehri used the occasion to make a thinly-veiled criticism of the nuclear deal: "liberation of Aleppo is the fruit of resistance, not useless negotiations and surrender" he said. A similar comment was given by Abdolkarim Abedini, leader of Qazvin's Friday prayers.