Friday Prayers Across Iran: Syria, sanctions, sedition
Friday prayers on December 23, 2016.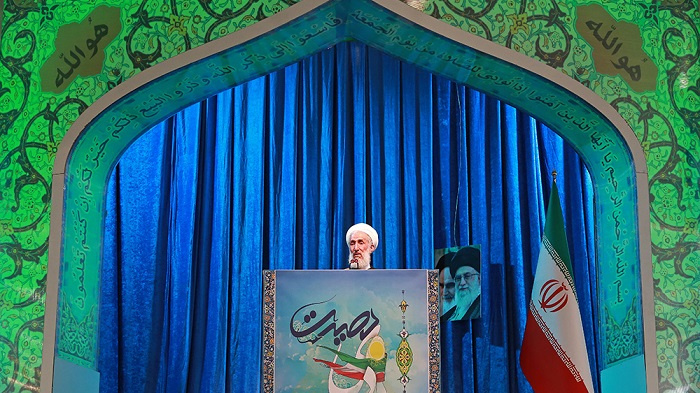 (Tehran's Friday prayers' leader Kazem Seddighi. Source: Soroush Seyyed Jamali/YJC)
In this week's Friday prayers across Iran, sermonizers once again lauded the recapture of Aleppo by the "Axis of Resistance", that is, Syria, Iran and Russia. They also summoned up 9th of Dey, December 30, 2009, the day massive rallies were held across the country against the Green Movement, the "sedition". Friday prayers' imams also once again urged the government to demonstrate a strong response to extension of anti-Iran sanctions by the US government.
In Tehran, Kazem Seddighi touched on 'sedition', in official lingo 2009 post-presidential demonstrations by supporters of Mir Hossein Mousavi and Mahdi Karroubi against Mahmoud Ahmadinejad's relection, and the 9th of Dey counter-demonstrations in condemnation of the movement's alleged violation of the sanctity of holiest Shia days of Tasu'a and Ashoura. Seddighi compared the tumultuous months after the 2009 presidential election with the eight-year war against Saddam Hussein's army in the 1980s, and called the former a tougher challenge, since it enjoyed the propaganda of "Zionist media" and had leaders, Mir Hossein Mousavi and Mahdi Karroubi, who were known as revolutionary figures with close ties with founder of the Islamic Revolution Ayatollah Khomeini. In Isfahan, Yousef Tabatabaeinejad criticized calls for release of seditionist despite "crimes they had committed such as … violence and murder" while in Hamadan, west of Iran, Ayatollah Mousavi Esfahani said that if 'people' had not quelled the 2009 sedition, no one knows what could have happened to the country afterwards.
"Liberation of Aleppo has proved [Iran] as the region's most powerful country" said Ahmad Alamolhoda, the powerful Friday prayers' leader of the holy city of Mashhad in northeastern Iran. "United States aimed to create a backyard for itself through dissolving Syria and Iraq" Alamolhoda said. "But warriors of Islam", that is, the Axis of Resistance, "made them face their largest defeat after the Islamic Revolution" he added. In Tehran, Kazem Seddighi hailed "the US, the UK, France, and takfiris' failure" to stop the "fortunate development" of Aleppo's liberation. Seddighi added that recapturing Aleppo was not merely a military victory, but also a cultural one for the "revolutionary camp".
Violation of the nuclear deal was "predictable" said Kazem Seddighi in Tehran, calling for a powerful response by Iran, one stronger than Rouhani's order to Iran's national atomic energy organization to produce nuclear submarine fuel, since it "failed to challenge the US." In Khorramabad, west of Iran, Friday prayers' sermonizer Ali Miremadi said that with extension of US' sanctions against Iran, "it has been proven for everyone that America does not commit itself to any international treaty." Miremadi also said that despite Ayatollah Khamenei's opposition to any negotiations with the US, whether nuclear or non-nuclear, Iran had stayed committed to the nuclear deal up until Washington's breach of the deal since it was signed by the government. Meanwhile in Hamadan, Ayatollah Mousavi Esfahani called the parliament and the government to unite and stand against such 'bullying' by Washington.