Who Is Behind Nagorno-Karabakh Clashes?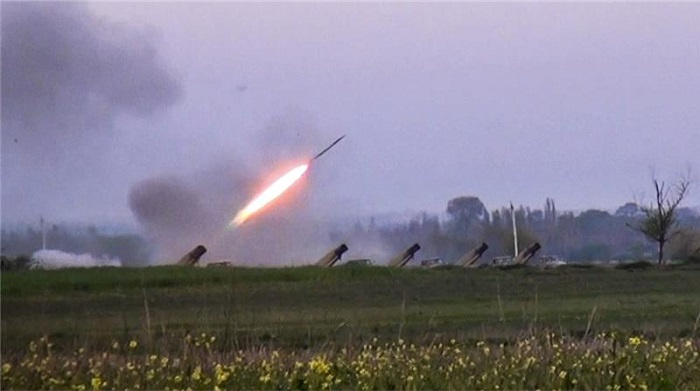 After twenty-two years of ceasefire, an outbreak of violence between Azerbaijan and Armenia now might well turn into a full-scale war, dragging regional powers. What or who is behind the recent clashes and who does Iran side with?
Many observers were rendered speechless over the intensity of the clashes as they started at the weekend with no apparent reason after more than two decades of a fragile yet more or less stable truce that has been violated several times but less severely. Putting the pieces of the puzzle in the region, Mohammadreza Damavandi, the chairman of an Iran-Armenia fraternity society, says both sides are scapegoats of a game in another part of the region. "The Armenian and Azeri sides are both executors of an episode and not its decision-makers," Damavandi said in an interview with Iranian Diplomacy.
Moscow supplies arm to both sides but has stronger military and economic ties with Armenia. However, Russia has posited itself in line with western leaders who are advocating the sides' commitment to ceasefire and political solutions through talks. On the other hand, some analysts believe Turkey and a number of other regional powers are taking side with Azerbaijan or worse, adding fuel to the fire.
Tabnak, a news website associated with former IRGC commander and presidential candidate Mohsen Rezaei, highlights the Azerbaijani President Ilham Aliyev's visit to Turkey last month, quoting 1News calling it a revival of Aliyev's motto of a 'single nation with two countries'.
The article in Tabnak says Turkey is trying to open a new front to continue its rivalry with Russia following their face-offs in Iraq and Syria. According to the article, Ankara is trying to drag Russia into a conflict inside its own backyard. The unnamed author considers Erdogan's 'fantastical' Neo-Ottomanist inclinations as yet another reason behind Turkey's unilateral support for the Azeri side.
Shiva Alizadeh, a doctorate student of Central Asia and the Caucasus Studies at Tehran University, believes Russia is the actor who benefits most in the conflict. After discussing the OSCE Minsk Group's inability to resolve the conflict between Armenia and Azerbaijan due to Russia's overwhelming influence on both countries and its rivalry with the west, she writes:
"The frozen conflict has turned Azerbaijan and even more so Armenia into Russia's hostages. The end of the conflict, and the likely consequent termination of the rift among Armenia, Azerbaijan and Turkey, would seriously affect Moscow's geopolitical and economic interests in the region. The security disadvantage caused by the Karabakh crisis is an Achilles' heel for Armenia, restraining its option in foreign policy and pushing it into Russian arms. Russia seeks to drive Armenia away from the West and Iran in order to limit the country's sovereignty."
Iran's immediate official response was fairly mediocre; an expression of concern plus a call for self-restraint and ceasefire. Then, three mortal shells fired from Nagorno-Karabakh amid the fights hit a village in northwestern Iran on Sunday. The Iranian border guard called a meeting with officials from both conflicting sides, who were warned against repeating the incident, Deputy Governor-General of Iran's East Azerbaijan Province Saeed Shabestari Khiabani said.
Here on Tuesday, Iranian Foreign Minister Mohammad Javad Zarif has told reporters Iran, Azerbaijan and Turkey have decided to launch a permanent strategic committee joined by the three countries' deputy foreign ministers in political affairs to assure the implementation of decisions taken during previous trilateral summits of the foreign ministers. A fourth round of these talks has been held in Ramsar, a northern city of Iran and a fifth is scheduled to be held among the three foreign ministers in Azerbaijan.
"Tehran has stressed the solidarity of Islamic countries, particularly as OIC leaders' summit will soon open in Istanbul as well as the significance of a ceasefire in the region and settlement of the existing differences including Karabakh based on international law," Zarif was quoted as saying by ISNA.
As Iman Ahmadvand aptly writes in AsrIran, Iran will not be interested in NATO's military presence in the vicinity of its northern borders and has genuine deep-rooted suspicions regarding such involvements. Thus, Iran would encourage a peaceful settlement of the crisis by means of negotiations and insist that only countries inside the region can mediate between the sides.