Friday Prayers in Iran: All about elections
Iran's Friday prayers on Febuary 26, 2016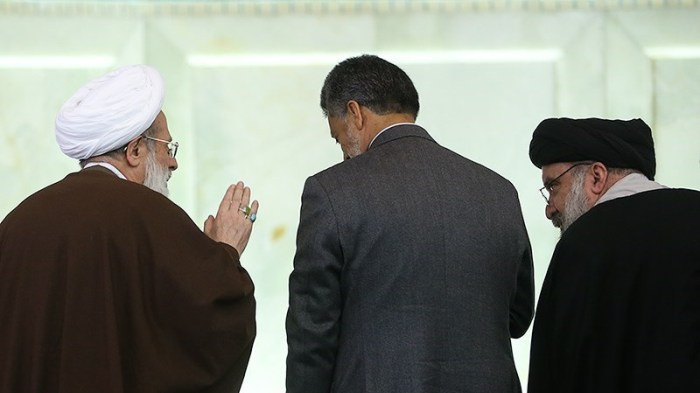 (Former Intelligence Minister Mohammad Reyshahri, Army Navy Commander Habibollah Sayyari, and Assembly of Experts' member Ahmad Khatami attend the Friday prayers in Tehran. Photo: Arash Mirsepasi/YJC)
his Friday, elections for Majles, the parliament, and the Assembly of Experts were held across the country (read our reports here 1, 2, 3). Sermons inevitably revolved around the issue of elections and contained the usual arguments: that elections are a sign of Iranians' confidence in the establishment, and that they will increase the power of the Islamic Republic.
In Tehran, Friday prayers' leader Ayatollah Seddighi, whose bid to run for the Assembly of Experts was rejected by the Guardian Council, asked his audience to vote those who "will not be deceived by the United States, care for the bare-footed, and sympathize with the youth." Describing Iranians' participation in elections as "an epic", he added that "people came to the scene enthusiastically to protect the revolution." Seddighi also warned about enemy's concentration on 'infiltration' after the nuclear saga is settled. "They are trying to disembowel the establishment from inside" he warned the congregation. Following Ayatollah Khamenei's remarks, Seddighi slammed the use of hardliner vs. moderate dichotomy, calling it enemy's way to "suppress the revolutionary masses."
In Mashhad, Hojjatoleslam Farzaneh warned about post-election conspiracies of the 'enemy' and called for vigilance. Farzaneh called for the next parliament to pursue plans whose impacts can be tangibly sensed by the public. Farzaneh also called for combat against moral vice, unemployment, divorce and poverty.
In Kerman, south of Iran, Yahya Ja'fari addressed the importance of simultaneity between the parliament and the Assembly of Experts and called for formation of "a capable, powerful parliament that can stand against Imperialism." Ja'fari called the "enemy's efforts to discourage participation in the elections" futile and called the audience to haste in casting their votes in the ballot boxes.
"In the history of revolution, this nation never turned its back against the ballot boxes and always used its right" to vote said the Friday prayers' leader in Qom Hojjatoleslam Saeedi. "What can turn this day into a historical day, is citizens' maximal participation, regardless of their [political] orientation," he added. "Any establishment who relies on its citizens can repel Imperialists like the United States and takfiri groups like Daesh." Saeedi also spelled out the criteria of a good parliament: "to know the solution to people's pain, to be pious and brave, not to be intimidated by the United States, and to oblige the government to [support] domestic economy."
In Khorramabad, center of Lorestan Province, Seyyed Ahmad Miremadi expressed satisfaction that despite the enemy's efforts to polarize the society, Iranians have proven their loyalty to the revolution. "People are waiting for a revolutionary, devoted parliament to be formed; one that is not intimidated by the United States or Britain" he added, echoing concerns/propaganda about the existence of a "British list" in the elections, an explicit reference to the Reformist slate.