No Political Will to Combat Daesh
An essay by Mohsen Baharvand, an expert on international law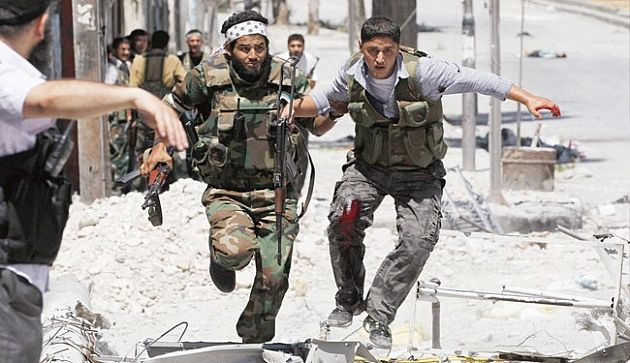 The legal description of the nature of groups like Daesh is somewhat complicated. Considering the international literature with regard to other groups, these groups could hardly just be called terrorist groups. Terrorist measures are generally secret and momentary measures while these groups have established open war fronts in Syria and Iraq besides terrorist acts and have officially entered into war with these governments. These groups could be called illegal armed groups. From the viewpoint of international law, legal armed groups are groups that have taken arms in their legitimate defense against a foreign enemy or the liberation of their occupied territories. Daesh neither defends its motherland nor is its country occupied by a foreign enemy, thus, they do not have any right to launch such an armed struggle against the countries of the region.
Despite the difficulty in describing the personal nature of these groups, it is not difficult to explain the situation which this group has created in Syria and Iraq. Legally, this situation is an armed struggle. Recognition of such a situation would lead to the implementation of certain international laws, the violation of which would have penal responsibility for the violators.
Some international laws are gradually promoted to the level of jus cogens. The result of these regulations is worldwide commitment for all governments. International commitments mean commitments of each country towards the international community without being a member of a pact or prior satisfaction of that government. International commitments cannot be annulled or suspended under any condition. Committing certain crimes is considered as violation of jus cogens. War crimes such as the killing of civilians or imposition of unnecessary suffering on them, the killing of prisoners of war,… or crimes against humanity including torture, harming followers of other religions due to their beliefs, the killing of the followers of a religion or sect with a political belief and with the intention of their destruction … are considered among these crimes. Considering the fact that Daesh and similar groups have committed a collection of these crimes, those who have ordered these crimes and their deputies and advisors have a legal responsibility and all countries are duty bound to cooperate in order to prevent these crimes and deliver these individuals to the hands of justice. Silence against these crimes in Libya led to their repetition in Syria and Iraq. This silence indicates the unwillingness of other countries to fulfill their commitments but this should not stop the government of Iraq from collecting the documents of these crimes and asking its neighbors to fulfill their commitments as well. Furthermore, the continuation of a lack of punishment will probably lead to their repetition in other countries of the region. None of the regional countries could be happy about such crimes although they may be carried out by their closest friends or against their worst enemies. The fight against these crimes needs regional and international cooperation. This is not an option but an international legal commitment and is a must.
But the other important issue which could be the basis of regional and international cooperation in the fight against illegal armed groups including Daesh is crimes committed against peace and the threat which has been created against international peace and security. These crimes will increase in the future.
One could perhaps claim that the most important issue of the contemporary international system and law (after WWII) is the maintenance of international peace and security. Article 1 of the UN Charter states four objectives for the United Nations;  two main objectives are the prevention of war and the strengthening of peace, one is related to human rights and the fourth objective is collaboration to reach the mentioned goals.
It seems that measures which have been taken by the illegal armed groups such as Daesh in Iraq and Syria besides being considered as crimes against peace could be called an aggressive war. In classic international law, an aggressive war is committed solely by governments but it can now be said that the measures carried out by illegal armed groups in the capacities which happen in the Middle East is also an all-out aggressive war. The effects of the measures taken by these groups on the territories and governance of countries and other related damages are not different from those of an aggressive war except that these measures are carried out by an armed group without any independent rulership. Therefore, the fact that these groups are not governments would not prevent its legal description as measures against peace or an aggressive war.
It seems that today the method and objective of war have changed in many cases. During the past two centuries, countries have attempted to invade the territories of other countries in order to achieve strategic superiority while at the present time a trend is clearly seen that countries make efforts to disintegrate other countries and their neighbors in order to compensate for their strategic weakness or create a balance of power. Along this line, countries which have huge incomes or those which see everything from the viewpoint of the balance of power attempt to reduce the size of the big countries by using these groups. On the other hand, for the more powerful countries several small and dependent countries would have less power than a huge, populated and united country. Thus, different countries probably have common interests in these measures and this is a proxy war against large countries of the region.
If we accept that measures taken by this group and similar groups are considered as a threat against regional and international peace and security, then according to Article 39 of the UN Charter, the Security Council of the United Nations must recognize the existence of such threats and make provisions for its removal including military action. But it seems that the Security Council has, hitherto, shown no interest in making a serious decision in this regard for any reason including political reasons. The lack of any measures taken by the Security Council should not prevent the collective measures of other countries. Regional countries may feel the threats posed by these groups better than other countries.
According to Article 51 of the UN Charter, in case of an armed attack against any member of the United Nations, nothing in the Charter prevents a legitimate individual or collective defense of countries against the mentioned threat. Such a measure could be a regional one. Furthermore, Chapter 8 of the UN Charter has established a legal foundation of regional arrangements in the peaceful and violent fight against armed measures which are considered to be threats against peace and security. Even based on Article 52 of this charter, priority lies in regional arrangements in removal of such threats.
Based on what has been summarized, there are many legal bases for the collective fight against the threat of groups like Daesh but unfortunately the political will to carry out such measures has not been formed. In order to create political motivation, the strategists of big countries of the region including Turkey, Egypt, Saudi Arabia and Iran must answer the three following questions:
Were a stable Syria and Iraq considered as threats against the peace and security of the region? Has the emergence of illegal armed groups like Daesh promoted the peace and security of the region or reduced it? Isn't the strengthening of these groups and continuation of their presence in Syria and Iraq a threat against other countries of the region?
If the answer to these questions is that Daesh and similar groups are considered a threat against regional peace and security, then all countries of the region must put aside their differences and admit their mistakes in the strengthening of these groups and cooperate to remove these threats and postpone their political demands. These arrangements could be temporary arrangements and be made between all neighbor countries of Iraq and Syria and with their participation. Otherwise, if some believe that the measures taken by these groups have not created a threat against them but rather that it will benefit them in the future, it must be said that despite the existing legal bases, no regional cooperation will be established and the future will judge the situation.