Agent of Peace: Response to US Complaint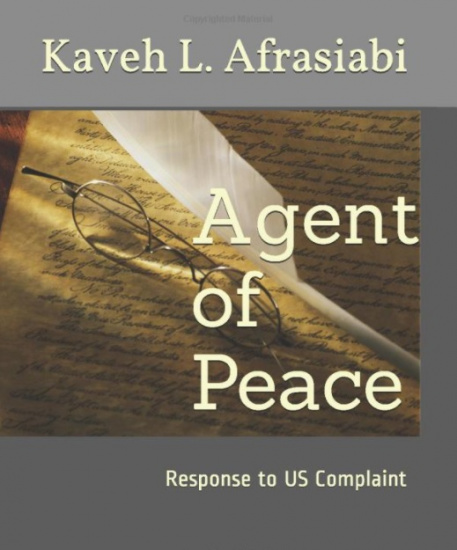 This book is a compendium of Kaveh L. Afrasiabi's articles in prestigious newspapers and academic journals that sets the record straight and debunks the politically-motivated US complaint against him.
Accused of engaging in pro-Iran propaganda, Afrasiabi lets his wealth of writings speak for themselves, invariably written from the standpoint of a social scientist and policy expert, by providing numerous examples of his publications -- in a vast range of politics, theology, ecology, literature and poetry -- including in the New York Times, Washington Post, Boston Globe, UN Chronicle, San Francisco Chronicle, Bulletin of Atomic Scientists, Harvard Theological Review, Harvard International Review, Columbia Journal of International Affairs, Brow's Journal of World Affairs, London's Guardian, Berlin's Der Tagesspiegel, Al-Jazeera, CNN, among others.
In addition, the book draws attention to the similarity with the past abuses of Afrasiabi's human rights in the United States and thus provides a chilling account of the injustices he has suffered in America. As an agent of peace devoted to the cause of world peace, inter-faith dialogue, and US-Iran detente and reconciliation, Afrasiabi documents his ceaseless efforts to bring the two hostile nations closer to each other, as well as his numerous other efforts on behalf of prisoners in Iran, including the three American hikers, the FBI agent missing in Iran, and others, often lobbying Iran rather than the United States, contrary to the complaint against him. The book also recounts the author's engagement with the UN leadership in order to facilitate a meeting between US and Iranian presidents.
Taken as a whole, the book's narrative provides an irrefutable evidence of the sheer absurdity of the allegations made against the author, highlighting his decades of original intellectual and academic contributions deserving praise as a "first-rate scholar," to paraphrase Afrasiabi's long-time admirer, the legendary Mike Wallace of CBS' "60 Minutes" who testified as Afrasiabi's character witness in Afrasiabi's epic legal battle against Harvard University, documented in his book, Looking For Rights At Harvard.
Table of content:
Introduction;

Chapter One: New York Times articles;

Chapter Two: Boston Globe articles;

Chapter Three: Washington Post articles,

Chapter Four: Columbia Journal of International Affairs articles;

Chapter Six: San Francisco Chronicle articles;

Chapter Seven: Guardian articles;

Chapter Eight: Al-Jazeera articles;

Chapter Nine: Bulletin of Atomic Scientists articles;

Chapter ten: Al-Monitor article;

Chapter eleven: Asia Times articles;

Chapter twelve: Middle East Eye articles;

Chapter Thirteen: Iran Review articles:

Chapter Fourteen: Global Dialogue article;

Chapter Fifteen: Harvard Theological Review article;

Chapter Sixteen: Lobelog.com articles;

Chapter Seventeen: Eurasia Review articles;

Chapter Eighteen: UN Chronicle articles/interviews (with UN Undersecretary For Peacekeeping Operations, Undersecretary for Strategic Planning, head of Peacebuilding Commission, 2003 Nobel Peace recipient; Former Iran President and member of Alliance of Civilizations);
Appendix:
Mike Wallace Takes the Stand For Afrasiabi;

Author's inter-faith efforts against war in the Middle East;
photos of the author with Ban Ki-Moon, Robert Orr, Margaret Ellen Loj, Shirin Ebadi, President Khatami