Zarif: US admits its JCPOA pullout prompted Iran to take steps away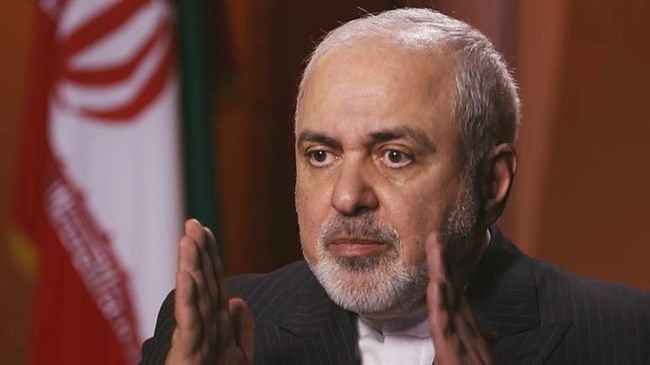 The US admitted that its withdrawal from the 2015 nuclear deal has prompted Iran to take steps away from the JCPOA, Iranian Foreign Minister Mohammad Javad Zarif said.
"US admits that only after it 'left the JCPOA, Iran has taken steps away' while until then 'Iran was living up to its limits,'" Zarif said in a post on his Twitter account on Thursday, Tasnim News Agency reported.
His comments came in response to recent remarks by US State Department spokesman Ned Price, who admitted that Iran remained compliant with the JCPOA before the deal was ditched by Donald Trump, then US president, in May 2018.
"That US behavior – the CAUSE – has not changed," Zarif added.
Zarif also slammed the three European parties to the nuclear deal – France, the UK and Germany – for being "culpable" as they have refrained from business with Iran for three years, although they had undertaken to compensate for the US exit from the JCPOA.
He then advised the US and three European countries that if they want Iran to reverse its remedial actions taken under Article 36 of the JCPOA and return to full commitments under the JCPOA, they must remove the cause of Iran's measures instead of asking Iran to stop its remedial steps, Press TV reported.
Trump withdrew the US from the JCPOA in May 2018, referring to it as the "worst deal ever," while Iran was in full compliance with the deal and remained so even a year after the US withdrawal. The former hawkish US president reimposed sanctions on Iran to force it to renegotiate a "better deal."
Price: 'Maximum pressure' policy failed
The administration of US President Joe Biden acknowledged that Trump's "maximum pressure" policy against Iran failed, while itself has so far shown unwillingness to undo the former president's wrongs.
Speaking at a press briefing on Thursday, Price said the Trump administration's "maximum pressure" policy has failed to achieve each and every single one of its aims, Press TV reported.
"I think when you look at the results of maximum pressure, you can only be left with one conclusion," Price said.
He added, "Maximum pressure was supposed to result in a better deal. It was supposed to cow Tehran and its proxies, it was supposed to isolate Iran from the rest of the world, and it was supposed to leave America's interests in a better position."
Price continued to say that in every single one of the issues he raised, the opposite has been true, adding that over the last four years, "we came nowhere close to anything resembling a better deal."
While criticizing Trump's failed policy against Iran, he still suggested that the Biden administration will continue to pressure Tehran with closer cooperation with Washington's allies.
"Now, our approach recognizes that maximum pressure accompanied by the lack of diplomatic engagement got us to where we are," he said. "That is why we are embarking on a different path, one that prioritizes real, principled, clear-eyed diplomacy – clear-eyed diplomacy with our partners and allies."
EU calls for reviving JCPOA
The top European Union diplomat supervising the international agreement aimed at curbing Iran's nuclear ambitions called Friday for a concerted effort to reinvigorate the pact even.
"This is an occasion that we cannot miss," to revive the 2015 Joint Comprehensive Plan of Action, or JCPOA, EU foreign policy chief Josep Borrell told reporters via a video link, AP reported.
"I am convinced as coordinator of the JCPOA that we do have diplomatic space, a diplomatic window of opportunity to dialogue" in line with Biden's aims, Borrell said. "We need to use this opportunity and focus on solutions to bring the JCPOA back on track in order for everybody (to fulfil) their commitments."
Iran this week effectively set a deadline to lift the US sanctions within three months, after which it said it would erase surveillance footage of its nuclear facilities. It has also limited some monitoring of its activities, which the EU says are meant to help ensure that Tehran's nuclear work is peaceful.
Source: Iran Daily