Iran, Armenia call for regional cooperation in post-war era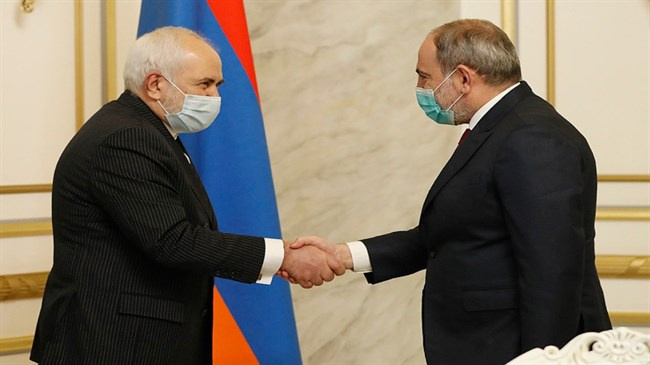 Foreign Minister Mohammad Javad Zarif said Wednesday that Iran and Armenia are keen to boost regional cooperation in the wake of the Nagorno-Karabakh conflict last year.
In a tweet, Zarif described as "productive" his meetings with Prime Minister Nikol Pashinyan and Foreign Minister Ara Ayvazyan in Yerevan.
During the meeting, he said, both sides agreed on "turning old rivalries into future synergies."
"Reviewed common regional challenges & opportunities following recent conflict. Agreed on further strengthening bilateral ties & regional cooperation – incl on connectivity projects: turning old rivalries into future synergies," Zarif tweeted. 
Zarif told Pashinyan that he is "highly respected in Iran for the courage" he showed by a "step toward peace".
He was referring to a Russian-brokered truce that ended a war between Armenia and Azerbaijan over Nagorno-Karabakh on November 10. The armed conflict erupted on September 27. 
As part of the truce agreement, Armenia returned swathes of territory it had occupied for decades to Azerbaijan. Nagorno-Karabakh is internationally recognized as part of Azerbaijan but has been populated by ethnic Armenians.
"We have opportunities to cooperate both bilaterally and multilaterally, it would be good to have discussions on these issues," Zarif told Pashinyan.
 Zarif highlighted Iran's position on the conflict saying it is about "the observance of international law, protection of peoples, protection of minorities, as well as territorial integrity and non-use of force."
Pashinyan stressed that due to the regional situation, there are both challenges and opportunities, and only through joint constructive efforts, appropriate environment will it be possible to establish stability and lasting peace in the region.
The Aremenian premier added that many issues remain unresolved, including the status of Nagorno-Karabakh, and that Yerevan is ready to continue negotiations.
Armenian territorial integrity
In his meeting with Ayvazyan, Zarif stressed the importance of national sovereignty and independence in all regional countries, saying Armenia's territorial integrity is a red line for Iran.
Describing Armenia as an important neighboring country for Tehran, the Iranian foreign minister said the two nations, as two ancient civilizations with a long history, enjoy friendly relations based on good neighborliness, Press TV wrote.
He hailed as "courageous" Pashinyan's decision to agree to the Nagorno-Karabakh cease-fire, because, he said, otherwise the region would have suffered from a prolonged conflict.
Additionally, Zarif expressed regret at the humanitarian damage caused by recent clashes in the region and voiced Iran's readiness to provide assistance in this regard.
The presence of foreign terrorists in the region is a common concern of the two countries, Zarif said, adding that Iran stands ready to cooperate with Armenia and other neighboring states to help promote economic development for the common interests of regional countries.
The top Armenian diplomat said the two countries' relations are based on mutual respect and trust.
He also emphasized the importance of close political, economic and trade talks with Iran as the fourth economic partner of Armenia.
Referring to regional stability and security, Ayvazyan highlighted the key role of the Islamic Republic in the region and urged respect for Iran's stance on regional issues.
Banking relations between the two countries as well as issues related to transportation, the export of Iranian products and the environment of the Aras River were among other topics discussed during the meeting.
Zarif was in Armenia on the third leg of his five-nation tour, which has already taken him to Azerbaijan and Russia, with Georgia and Turkey as his next destinations.
Source: Iran Daily