JCPOA Plus Mutual Confidence
By Kaveh L. Afrasiabi.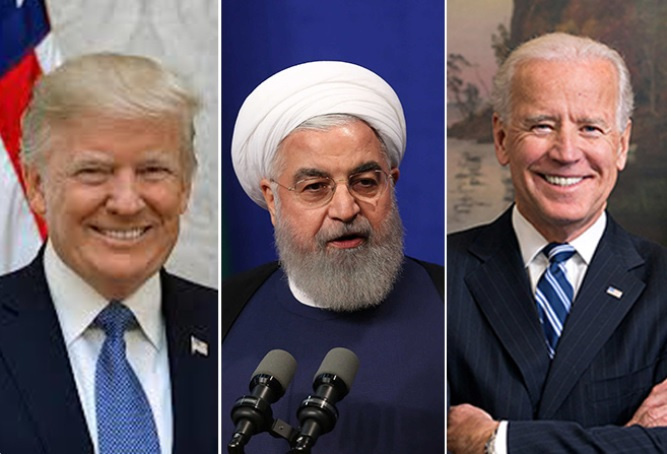 The 2020 US presidential elections, resulting in the defeat of isolationist President Donald Trump and heralding the rise of a new, multilateralist Democratic President, Joe Biden, carry important consequences for the future of US-Iran relations.  Trump's departure can, hopefully, signal a new direction in Washington's hitherto one-dimensional and coercive approach toward Iran, one led by prudent diplomacy.
    In contrast to Trump, Biden has repeatedly pledged to return US to the Iran nuclear accord, known as the JCPOA (Joint Comprehensive Plan of Action), on the condition that Iran fulfills its obligations under the accord as well.  Biden's election is therefore a major boost for the JCPOA, which has been on the life support ever since US' unilateral exit in May, 2018.  
    Henceforth, we can anticipate a scenario in the near future with the US and Iranian representatives around the same table at a meeting of the JCPOA's dispute-resolution mechanism known as the Joint Commission.  Hypothetically speaking, at such a meeting, with other JCPOA signatories present (i.e., Russia, China, Germany, France, England, and the European Union), both sides can raise their concerns and complaints with an eye toward reaching a new understanding, whereby the JCPOA can be put back on a healthy track and, what is more, be utilized as a springboard for broader, that is, non-nuclear issues alluded to in the JCPOA's text.  
    However, for this scenario to materialize, the necessary preconditions in terms of preparatory confidence-building steps need to be undertaken by both sides, given the fact that there is a tremendous deficit in mutual trust resulted from Trump administration's destructive input.  What the Biden administration need to realize is the extent of damages suffered by Iran as a direct result of Trump's illegal exit from the JCPOA and the related impositions of a "maximum pressure strategy" that was in fact intensified after the outbreak of Covid-19 pandemic.  The Trump administration refused to heed the preliminary ruling of the World Court against new US sanctions, reflecting the administration's rogue behavior, which is in dire need of adjustment and reconsideration by the coming Biden administration.
    Unfortunately, there are also worrying signs, from both the Biden ticket as well as Biden's foreign policy advisers, that instead of a straightforward return to the JCPOA, Biden favors a "JCPOA plus" that brings into picture a number of additional US demands not seen in the original 2015 agreement. Not only that, some Biden advisers have written about a sequential approach, whereby Iran must first make certain concessions before Washington reciprocates on such matters as reducing and or lifting US sanctions on Iran.  But, given Iran's deep distrust of US after Trump's outright betrayal of US' commitments under the deal, Tehran should be excused if it does not satisfy such unreasonable demands that simply ignore the legitimate indignant mood of policy-makers in Iran.  Many Democrats including former secretary of state and current Biden adviser John Kerry have readily admitted that Iran was in good standing with the JCPOA when Trump decided to scuttle the agreement, in other words, the blame falls on the US' shoulder for the current problematic state in US-Iran relations.  The expectation that Iran should make the first move is simply unrealistic and unreasonable.
    In any bilateral relation, both sides need to move the pieces in order to achieve an improvement. In this particular case, both Tehran and Washington need to take reciprocal steps in terms of confidence-building, instead of leaving the ball of diplomacy in the other side's court.  Reciprocity is of highest importance and can generate good-will on both sides if pushed simultaneously in Tehran and Washington.  There is, to reiterate, a great deal of deficit in trust and mutual confidence that needs to be properly identified and remedied through concrete action.  Various public gestures, such as Biden administration's lifting of the 'Muslim ban' and facilitating humanitarian transactions with Iran by issuing executive orders form such actions that, in turn, have the potential to increase Iran's confidence that the new US administration is serious about a "new diplomacy" with Iran.  
    This is why, above all else, what is needed immediately is "JCPOA plus mutual confidence" that can come about through a variety of open and discrete channels of communication, as well as "baby steps" aimed at resetting the climate for renewed US-Iran dialogue.
    Such a dialogue may, and logically-speaking should, have a broad purview focusing on the regional tensions and conflicts, threat of terrorism, and the possibility of discovering shared and or parallel interests that reflect the national interests of both sides.  Iran is presently concerned, for example, about the ISIS (Daesh) threat that may have expanded into the Caucasus, in light of the reported infusion of hundreds of terrorists from Syria and Libya in the theater of conflict over Nagorno-Karabakh, not to mention ISIS's growing threat in Afghanistan.  The Biden administration should also revisit US' policy on the war on Yemen, and the previous administration's 'blank check' to the Saudi and UAE leaders, which in turn raises the issue of arms sales to the region, touched on by Biden in the past.  There are, of course, certain divisive issues, such as on the occupied territories, that we should not pin too much hope on bridging between US and Iran, but then again the two sides do not necessarily need to be in agreement on all issues in order to explore the possibility of a new chapter in their bilateral relations.  
    In conclusion, the unique advantage of pursuing a "JCPOA plus mutual confidence" is that it prioritizes the trust issue, which is of paramount importance in the minds of Iran's leaders after several years of gross American coercion and injustice perpetrated against Iran.