Rouhani calls for expansion of relation with Tajikistan, North Korea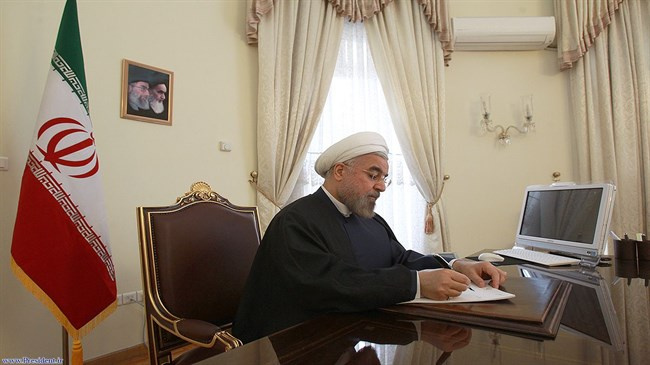 In a Wednesday message to his Tajik counterpart Emomali Rahmon, Rouhani congratulated the people and government of Tajikistan on the 29th anniversary of the central Asian country's independence from the Soviet Union that collapsed in 1991, according to Tasnim News Agency.
The Iranian president called for efforts to promote cooperation with Tajikistan in the fight against the coronavirus outbreak and in mitigating the pandemic's economic consequences.
He also highlighted Iran's willingness to promote ties with Tajikistan in bilateral and multilateral fields given their common culture and language.
Rouhani also emphasized that the outbreak of the coronavirus has made it necessary for the Iranian and Tajik officials to promote cooperation in order to address the region's economic problems and share experiences in the battle with the pandemic.
The president expressed hope that joint efforts would broaden the bilateral ties to serve mutual interests and contribute to regional and international peace and security.
Every year, Tajikistan celebrates the anniversary of its independence on September 9.
Most of Tajikistan's population belongs to the Persian-speaking Tajik ethnic group, who share language, culture, and history with Iran and Afghanistan.
After independence, Tajikistan suffered from a devastating civil war which lasted from 1992 to 1997. Since the end of the war, newly established political stability and foreign aid have allowed the country's economy to grow.
Iran was the first nation to establish an embassy in Dushanbe. It was also one of the first countries to extend diplomatic recognition of the newly independent Tajikistan in 1991.
Also on Wednesday, President Rouhani in a message to the leader of North Korea Kim Jong-un congratulated the East Asian nation on the 72nd anniversary of the country's founding.
Rouhani expressed hope that bilateral relations between Iran and North Korea would grow in all fields with the willpower of their senior officials and by employing the available capacities.
North Korea marked the 72nd anniversary of its founding last week. The Democratic People's Republic of Korea declared its statehood in 1948 and it commemorates its National Day on September 9.
Source: Iran Daily