What Are Qalibaf's Aspirations after Losing His 3rd Presidential Race?
In an article published on pro-reform daily Etemad, Mojtaba Hosseini sees into possibilities ahead of Mohammad Bagher Qalibaf, who has recently become 'the former' Tehran mayor.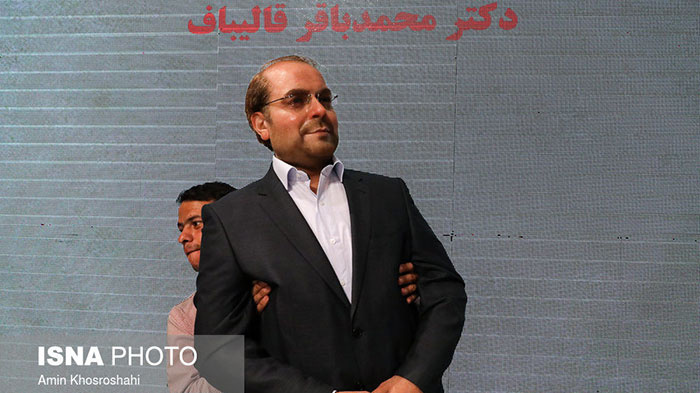 (Picture: Man carries an effigy of Mohammad Bagher Qalibaf to stage during ceremony held to celebrate his 12-year tenure as Tehran mayor.)
He was 44 when he took office as Tehran's mayor on the capital's Behesht (Paradise) street and left at the age of 56, having become the most powerful and enduring mayor of the city. Tehran mayor for 12 straight years, Mohammad Bagher Qalibaf may aptly be called the city's most influential executive.
Not only the city and the citizens experienced fundamental change during his term, but also the Principlist boss himself was dragged into a metamorphosis. While Tehran engaged in feverish urban development, Qalibaf's political profile became voluminous, his political vernacular harsher than his fellow rightist fellows. It went so far as to turn him, once a preacher of commitment to the principles of Principlism, to an advocate of Neoprinciplism. He has published an open letter recently, addressing the Right camp's third generation to urge revolutionary reforms in the principles of the Principlist camp. More than anything else, the letter seems to be the unveiling of a new Qalibaf. This year, he once again ran for the presidential office with plenty of aspirations and to make up his defeat in the 2013 presidential race, but was forced to withdraw, easier than ever, by the godfathers of the Principlist camp.
His forced withdrawal together with the Reformist's sweeping victory in city council elections have left Qalibaf without a safe haven in Behesht, unlike 2005 and 2013. Even before his official farewell to the municipality, many had declared the end of his political career. However, Qalibaf's valediction ceremony came with praise from Ayatollah Khomeini's grandson Hassan Khomeini, Parliament Vice Speaker Ali Motahari, Reformist cleric Mahmoud Doaei, powerful figure of Supreme Leader's Office Vahid Haqani, and pro-reform Ayatollah Mousavi Khoeiniha, the latter who advised the new mayor Mohammad Ali Najafi not to disclose Qalibaf's controversial legacy. For those able to read between the lines, these indicate that Qalibaf is far from finished.
Even though he was appointed a member of the Expediency Council by the Supreme Leader even before leaving office as the mayor, there is no doubt the dissident figure of the Principlist camp could be a savior in rainy days now that he has accumulated invaluable experiences in political and executive spheres. Whenever the Principlist camp faced a social popularity crisis, its patrons unwilling to cooperate, and political divisions hurting, Qalibaf was one of the numbered heroes remaining, with his network of faithful executives, pragmatism, executive potential, and many political motives. That explains why Qalibaf's farewell to paradise and his trip to Saudi Arabia for haj pilgrimage should only be viewed as a short vacation. The main question is where should one place Qalibaf in the establishment, or more specifically the Principlist camp? What political goals will he pursue? What is the message behind his appointment as a member of the Expediency Council? Will his experience be used to handle large economic enterprises or will he focus only on his version of Neoprinciplism, trying to establish a new party?
Political strategy: Drawing lines with Principlists
The Principlist godfathers have never taken Qalibaf serious during elections. In fact, he has always been given a cold shoulder. Apparently, he has been taken for granted. Even minor Principlist have declined to team up with him.
In the 2013 presidential race when Principlist candidates had hoarded into the election, only a few members of the Society of Seminary Teachers of Qom backed him, in addition to quasi-parties linked with Qalibaf himself. In the tenth parliamentary elections too, no invitation was sent to Qalibaf for the so-called 'convergence' meetings, aimed to creat consensus among the Principlist camp and lead to a single slate. In this year's presidential race, pressures of the Popular Front of Revolutionary Forces (PFRF) on him to withdraw in favor of Ebrahim Raisi made him pull out. During all previous occurances, Qalibaf had opted for silence. However, immediately after the 2017 presidential election, Qalibaf and his supporters have opened fire, speaking out about the pressures that culminated in his latest withdrawal. They have openly claimed that Qalibaf was doing better in polls. However, their protest received harsh responses by some Principlists.
Losing hope in the masterminds of the Principlist camp, Qalibaf addressed the young supporters. "I have come to believe that fundamental change in the Principlist front's type of action is among your main demands, the pious and compassionate youth of the revolution and the country. It is clear today that Principlism needs a sea change in approach and policy while maintaining the revolutionary principles and values of the Islamic Republic and start to move toward Neoprinciplism with a new discourse and new faces as soon as possible," he wrote in his open letter.
He called on "influential friends" to self-criticize, while offering his own interpretation of the Supreme Leader's fire-at-will speech: "Get involved optimistically, actively and fire at will and stop waiting for top-to-bottom measures in the Principlist front because an analysis of some of our friends' post-election behavior indicates that top-level decision-making is still flawed in this case."
By posing some serious questions, he tried to leave a space for Principlist fathers and sons to discuss Neoprinciplism. However, the letter clearly communicated the message that unlike another unsuccessful general-turned-politician, Mohsen Rezaei, Qalibaf is not going to don his military uniform again. Instead, he wants to go beyond Principlism, to discover Neoprinciplism through a pragmatist formula. There is no doubt that his introducing of Neoprinciplism is a strategem to express his objection at political mechanisms and management in the Principlist camp, but he was also beginning his quest to split ways with them.
The 56-year-old has found that the Principlists cannot be saved from their dead-end of intertwined problems and does not want to see another defeat under their brand. He has listened carefully to the symphony of the Principlists, realizing he can neither add even a single note to the hustle and bustle nor find a way to rise over other instruments. That is why, like Speaker Ali Larijani, he has started to look for a different destiny. Qalibaf knows that without a move away from the Principlist camp, where a storm of divergence and division has already struck, he too will have to pay the costs.
For this reason, he will not remain idle after leaving his office in Behesht, leaving his network of executives and supporters high and dry. To implement his plan, he may put half of his energy on a new party, in order to become a Neoprinciplist independent of the Principlist camp.