Abadi's Tough Job in Balancing Relations with Tehran, Washington
Some Iraqi officials stress that Iraq should not rely on the US' promises.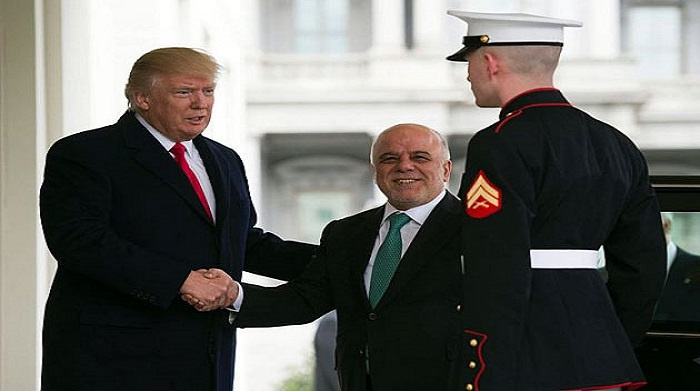 The first comments following the official meeting between Haider al-Abadi, the Iraqi Prime Minister, and Donald Trump, the US President, in Washington are indicative of a new approach in Iraq's political scene.
Based on a report published in London's al-Arab newspaper, Donald Trump said in this meeting that his country is committed to cooperation based on mutual respect within the framework of the strategic agreement between Iraq and the US. Abadi also heard from US officials that they remain committed to continue their aids to Iraq in its fight against ISIS.
Observers believe that this tone from US officials should be analyzed within the framework of the complexities in relations between the US administration, led by Donald Trump and based on an aggressive policy toward different countries including NATO member states, and those countries, such as Iran, which have different relations with Iraq. According to these observers, the problem which al-Abadi is faced with is Trump's demand to prevent Iran's influence in this country. Considering the presence of influential armed groups in Iraq, the majority of which have close ties with Iran and consider Iran's interests in this country, it seems that responding to this demand would be very difficult.
This is while many believe that Abadi cannot relieve Iraq of its need for Washington because the US is the founder of the present Iraqi regime following the downfall of Saddam Hussein and, especially, Iraq needs the US' support at this stage in its fight against ISIS and in its military operations to cleanse Mosul from the terrorists. Iraq also needs the US' financial support to reconstruct the war-stricken cities and improve its damaged economy particularly the military costs which have directly affected the country's economy.
Therefore, Abadi is confronted with a difficult situation where he has to create a balance between Iraq's relations with Tehran while maintaining close relations with Washington. It seems that the Trump administration is not interested in dividing the power with Iran and does not intend to easily accept Iran's growing influence in Iraq.
Following his meeting with Abadi, Trump stressed that the White House is aware of tangible progress which has been made in the fight against ISIS in Mosul. He further reiterated that his administration's objective is to get rid of ISIS. In response to a question about whether the US forces will leave this country after ISIS' defeat and its expulsion from Iraq, he said that the US will never leave Iraq.
The US' military presence in Iraq is one of the most important problems which al-Abadi must deal with considering the existing oppositions against this issue, particularly when many believe that this presence targets Iran.
Without further explanations, Trump stated that Iran was one of the subjects of discussion between the US and the Iraqi delegation.
In his statement after the meeting with Trump, al-Abadi said that the US President and his team promised to fully support Iraq in its fight against ISIS. He further stressed that US officials will speed their support of Iraq until complete destruction of this radical group.
Some Iraqi officials who are close to Iran stress that Iraq should not rely on the US' promises. Muhammad Naji, the Head of the al-Badr group, said in this regard that the US did not fulfill its promises and agreements in it support of Iraq. He further stated that if the US had really supported Iraq, ISIS would have been defeated long ago.
Jasim al-Bayati, a representative of the coalition of the government of law led by Noori al-Maleki, Iraq's former prime minister, in Iraq's parliament, said in this regard that certain regional countries attempt to worry public opinion about the Trump administration's approach towards Iraq.