Diplomatic Warfare between India and Pakistan Goes On
In an op-ed for Iranian Diplomacy, senior South Asia expert Mostafa Zandieh writes of the deadlock in Indo-Pakistani ties.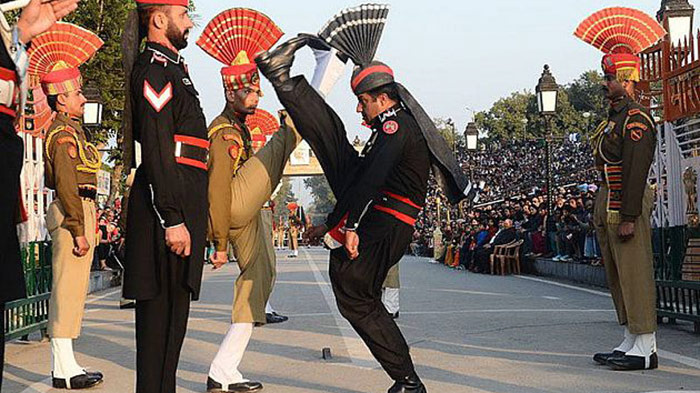 There are serious issues in the mutual ties between Pakistan and India at the moment. Even though the sides are not in war, it seems that the two countries are in a situation similar to a virtual war on the line of control, which puts them in a situation of severe verbal attacks in media.
Since Narendra Modi became Indian Prime Minister in May 2014, conflicts and differences between the sides have intensified. An interesting aspect amid complicated relations between India and Pakistan with their many differences has been the unofficial and personal rapport between the two prime ministers. In fact, positive bond between the two officials has had its impact on balancing and managing bilateral ties to some extent.
India blames Pakistan for all terrorist incidents in its territory and Indian-administered regions of Kashmir. These include terrorist attacks on the Indian parliament (December 2001), in Bombay (November 2008), on the Pathankot Air Force Station (January 2016), on an army camp near Uri (September 2016) and the Nagrota attack in November 2016. India considers extremist groups backed by Pakistan, including Lashkar-e-Taiba, Jamaat al-Dawa, and Jaish-e-Mohammed involved in the attacks and has demanded the extradition of their leaders. It has also stated that it will refrain from any talks with Pakistan before punitive measures and trials for individuals and groups involved.
It is worth noting that India's condition for holding talks with Pakistan goes along with it continuous efforts to isolate Pakistan in regional and international level and to introduce the country as a state sponsoring terrorism in the US and the United Nations. Moreover, the Indian government is annually spending millions of dollars to create and strengthen their own lobbies in the United States and other major countries to facilitate its traditional rivalry with Pakistan. It is even said that an arms deal worth $700m under which Pakistan was to buy eight F-16 fighters from the US was nullified by Congress vote because of efforts made by India's influential lobbies.
Furthermore, Pakistan is the state being blamed in Kashmir in spite of India's violent crackdown on the community, even though most observers of the Indian subcontinent believe that legally speaking, Pakistan has the upper hand vis-à-vis India in the Kashmir conflict.
Afghanistan and India have also used their lobbies to persuade the US State Department that Pakistan does little to prevent cross-border terrorism. Besides, some powerful circles stress that talks between India and Pakistan should remain in suspension until India's demands regarding serious decisions on terrorist groups are fulfilled.
In Pakistan, it is argued that before a final solution is reached regarding Kashmir, any expansion of commercial and social ties with India should be avoided. Some domestic circles in Pakistan advocating better ties with India believe that a more flexible approach to terrorism and violation of human rights in Kashmir will be inevitable if India really wants to improve relations with Pakistan.
However, advocates of the mainstream approach, close to that of the Pakistani army, believe that India, too, has instigated terrorist groups such as Pakistani Taliban and separatist groups in Baluchistan (via Afghanistan) wreaking human and financial havoc on the country.
It seems that anti-India sentiments in Pakistan will not be quelled as long as policies of suppression, intimidation, and iron fist continue to rule in the Indian-administered Kashmir.
On the other hand, both Pakistan and India need stability and security in South Asia. The truth is intelligence services, Inter-Services Intelligence (ISI) in Pakistan and the Research and Analysis Wing (RAW) in India, have had a significant role in the deterioration of differences between the two states. Given the fact that the two services play a pivotal role in spreading hatred and confrontation with one another, the two central governments have lost the ability to control them. The problem has become particularly intense in Pakistan, so much so that the India dossier is in full control of the army and ISI. As a result, Pakistan has never been under such diplomatic pressure as it is today, rendering it in dire need for effective responses to pressure from India. Some analysts of security affairs in Pakistan believe that nongovernmental militant players based in the country have turned into great strategic trouble for Pakistan.