Principlist Media Downplay Iran's OPEC Victory
The majority of observers have viewed OPEC's recent agreement to cut output while maintaining Iran's exemption as a victory for Iran. Not surprisingly, reactions in Iran are widely divided.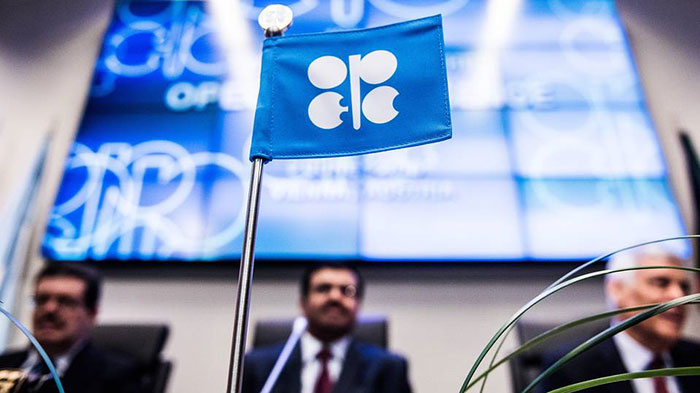 The majority of observers have viewed OPEC's recent agreement to cut total output a victory for Iran since it exempts the country from cutting its production and allows Tehran to take back the market share it lost during sanction years. Not surprisingly, reactions in Iran are widely divided between Reformist and Principlist media.
Pro-reform Etemad daily called the agreement a ceasefire between Tehran and Riyadh, referring to a photo taken at the end of OPEC's Vienna meeting, where Iranian and Saudi oil minister stand shoulder-to-shoulder. In an op-ed published in the daily on Saturday, Abbas Maleki, a former senior diplomat, stated that Iran has taken the role of OPEC leadership, previously in Saudi control. Elsewhere, Etemad linked Iran's achievement to the JCPOA, saying that the landmark nuclear deal has eliminated middlemen and prevented corruption.
Aftab Yazd, another Reformist daily, called the decision to cut production "OPEC's rebirth". In an editorial penned by Hamidreza Shokouhi, the newspaper fired back at the so-called delvapasan, 'solicitous' Principlists who criticized the agreement on the basis that Iran was selling its oil in crude form. Shokouhi meanwhile dismissed hyperbolic excitement over the 'victory', but deemed those criticisms unfair and politically-motivated. "It seems that while some groups continue to see everything through a politicized lens, one cannot hope for the country's development and growth," he concluded.
Shargh daily, the leading Reformist herald, also welcomed the new OPEC decision as a major achievement of the Rouhani administration. Shargh's editor-in-chief, Ahmad Gholami, used the breakthrough as an opportunity to bring up public expectation for economic 'opening'. "With the OPEC decision, the [Rouhani] administration regains its confidence which it lost after the US presidential race," Gholami wrote. He went on to note that the administration's opponents try to play down the victory or ignore it altogether.
Nasim Online, affiliated with IRGC, published an interview with Mohammad-Ali Khatibi, former National Iranian Oil Company Director-general for International Affairs, who downplayed the Iran's achievement, saying it fails to return the country to its pre-sanctions market share, i.e. 4 million bpd. "Iran failed to liberate itself from production cut as others imposed their will on Iran," Nasim quoted Khatibi as saying. Khatibi, who once represented Iran in OPEC, lauded the organization's decision to return to supply management and lay down destructive policies a positive measure but says the amount of production for Iran is ambiguous, as the country's average production in the first half of 2017 should not exceed 3.79 million bpd. "The psychological impact of the OPEC decision has been positive but it will not last long and the market will gradually tune itself to the realities," he added.
Fars News Agency also published a short article written by Mohammad-Sadegh Memarian, which hailed the achievement, interestingly without ever mentioning the Rouhani administration or the Oil Ministry. "The achievement was not possible without the cooperation of non-members and in particular Russia," he wrote.
Mashregh, another hardliner Principlist online outlet criticized Oil Minister Bijan Zangeneh over what it called 'a rollback, general style', a sarcasm pointing to Zanganeh's nickname, i.e. Iran's "oil general". "Iran has not only accepted the freeze it was supposed to refuse, but also agreed to reduce production for 178,000 bpd, i.e. 4.5 percent," the article said. Calling the agreement synonymous with a freeze for Iran, Mashregh claimed that Iran has withdrawn from its 4.7 million bpd share and will not be able to persuade OPEC to fill the 900,000 gap in the future.
Tabnak, a Principlist website owned by IRGC commander Mohsen Rezaei, one of the most vocal critics of the Rouhani administration's economic policies, took a more realistic stance. The website advised against radical, hurried final judgment as more oil revenues may lead to more budget dependence, and urged protection of the landmark OPEC achievement. Tabnak eulogized Zangeneh for his approach in increasing production capabilities before the nuclear deal, which boosted Iran's bargaining power during the talks, and for quickly retaking market shares through increased exports. The website noted a subtle point Foreign Minister Javad Zarif mooted after a recent meeting with Bijan Zangeneh, when he said it was the oil ministry that was keeping the nuclear deal running.