Could President Rouhani Push His Favorites into Cabinet?
President Hassan Rouhani's bid to restructure his cabinet has come under fire as he has proposed three men who had once failed to receive vote of confidence from the previous Principlist-dominated parliament.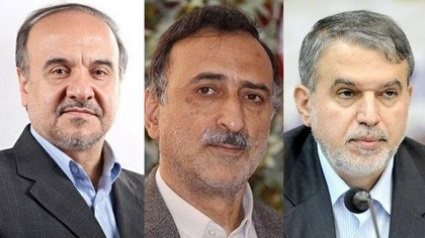 (From left: Soltanifar, Danesh Ashtiani, Salehi Amiri)
Many see the President's insistence on his men a taunting gesture in the face of hardliners.
The man proposed to take over the Education Ministry, Fakhreddin Ahmadi Danesh Ashtiani once appeared in an open Majlis session roughly two years ago, as Rouhani's proposed candidate for the Science, Research and Technology Ministry which is in charge of higher education in Iran. Like his predecessor candidate Mahmoud Nili, the ninth Majlis denied him a vote of confidence over accusations of his support for the 'sedition', a term used to refer to the unrest that followed Iran's 2009 presidential race. During the session held for the vote of confidence, Tehran representative Alireza Zakani played footages of Danesh Ashtiani, allegedly among university professors on strike after the controversial election. Another Tehran Representative Ali Motahari, now Deputy Speaker in the new parliamentary term, who was spoken in defense of Danesh Ashtiani, denied the allegations saying the footage belonged to a sit-in strike following student protests in 1999, not the election ten years afterwards. Other minor accusations included Danesh Ashtiani's membership in a working clan associated with President Khatami's three-year Higher Education Minister and former reformist presidential candidate Mostafa Moein. Principlist MP Hossein Naghavi Hosseini also implied that Danesh-Ashtiani was a founding member of the forcibly dissolved reformist party, Islamic Iran Participation Front. Ashtiani immediately denied a founding role and said his membership coincided with the days when the Front was inactive.
However, the Principlist-dominated parliament was not convinced, as it gave him a no confidence vote, casting only 70 for-votes, 171 votes against him while 16 MPs abstained.
The tenth Majlis, more moderate in its line-up, might turn into a platform for Danesh-Ashtiani to get through but the Prinicplist bloc should not be underestimated. They are already sending signals of a partisan arm-wrestling. "No stance from sedition-backers is acceptable, except for condemnation and renunciation," says Ehsan Ghazizadeh Hashemi, a member of the Principlist Velayat caucus. As Khomeini Shahr representative Javad Abtahi puts it, the oppositions to Danesh-Ashtiani's ministership remains in place. For him and his like-minded fellows in the parliament, Danesh-Ashtiani has been involved in the sedition and by presumption of continuity, this is yet to be resolved. Abtahi goes on saying that Danesh-Ashtiani is better off instructing university courses, according to Siasate Rouz daily. Another MP Razi Nouri has also threatened that MPs would make a 'revolutionary' decision if Danesh-Ashtiani insisted on his previous stance regarding the 2009 sedition.
Denying any involvement or support for the presidential protests back in 2009 will not give Danesh-Ashtiani a pass to the parliament, either. As an informative article says in Sedaye Moallem (Teachers' Voice), a website dedicated to Iranian teachers, Danesh-Ashtiani's management background and level of participation cannot make him part of the family that the Education Ministry is. Even though the administration is not obliged to propose minister from within the ministry, this objection has a good propagandistic reach, so it provides a good plan B for the opponents.
A similar albeit less controversial story is that of the proposed Minister of Culture and Islamic Guidance. Once rejected by the ninth Majlis as the proposed Minister of Youth Affairs and Sport, Salehi Amiri course to the ministerial office in Baharestan square does not run smoothly either. Two years ago, hardliner Paydari Front MP Elias Naderan listed a series of accusations against him, including financial corruption in the Iran Insurance Co. case, complicity in smuggling during his term in intelligence service in Khuzestan Province, and his role in the 2009 'sedition'. Naderan called him a turncoat that ended up in the campaign of presidential candidate Mir-Hossein Moussavi who is now under house arrest as one of the 'sedition' leaders, but again apostatized by saying he was on a mission, reporting the latest developments inside Mousavi's campaign. A more moderate MP and former presidential candidate Ahmad Tavakkoli also shed doubts on the academic status of Salehi Amiri. In spite of the fact that most of the allegations that cost him a ministerial job were later denied, there is a strong consensus on his security background and that it will not befit expectations among the country's culture and art community. Salehi Amiri's background was recently reoriented toward culture under President Rouhani where he served as the director of the National Library.
Perhaps the easiest vote of confidence will be awarded to Real Madrid fan Massoud Soltanifar who has been nominated as the new Minister of Youth Affairs and Sport for a second time. Last time thirty votes short of the parliament's confidence, Soltanifar's chances are high as many of the new MPs believe his versatile background in politics, sports, trade, and cultural heritage leaves no place for objections.