Meet Iran's New Ambassador to Syria: Hossein Sheikholeslam
Tehran has assigned Hossein Sheikholeslam as the head of Iran's diplomatic mission to Syria. Here is a timeline of his diplomatic career.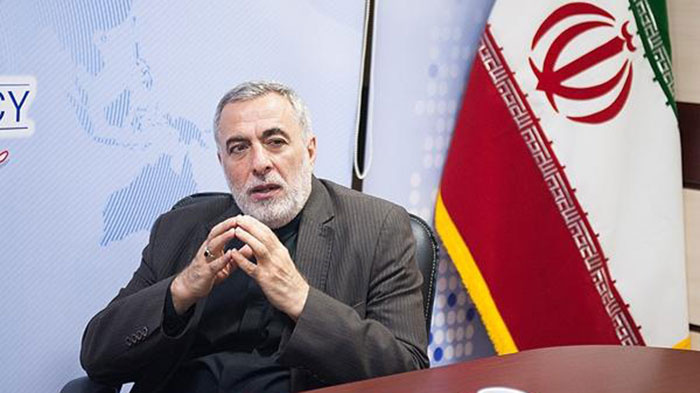 Hossein Sheikholeslam, born 1952, is a veteran Iranian diplomat who studied computer sciences in the United States before the Islamic Revolution. In the year of the revolution, he served as the secretary of the Association of Muslim American and Canadian Students, but his political career started when he participated in the occupation of the US Embassy in 1979. He and Niloufar Ebtekar (now Vice President Massoumeh Ebtekar) were among translators working with the students who took US diplomatic staff hostages. Soon, he was invited by the then President Mohammad-Ali Rajaei to join an Iranian delegation that was meant to meet US counterparts in Algeria for talks aimed at resolving the hostage crisis. He disapproved of the talk option, on the assumption that Iran did not have enough experience and infrastructure to win any concessions in talks with a superpower. That, he says, landed him his next job as Deputy Foreign Minister for Political Affairs, a post he kept for more than sixteen years.
It was during his tenure as Deputy MFA that he made great contributions to the Resistance Front. "Imam [Khomeini, founder of the Islamic Revolution] was extraordinarily fastidious to pay in aid for foreign issues. We had to write many times and explain why we had to spend money on this or that and why it benefited the Revolution. But we did not know this group very well. Imam warmly welcomed them and gave us a free hand for financial support, so we knew they were special," he recalls about a meeting where leading figures of the Amal Movement including Hezbollah co-founder and secretary-general Abbas al-Musawi, Naim Qassem and a young Hassan Nasrallah shared their views with Iran's first Supreme Leader.
His ability to work with politicians of different mentalities demonstrates his moderate inclinations. Sheikholeslam's devotion to the second Supreme Leader's foreign policy mindset and methods is also reflected in his view of the main line-up in the Middle East: the Resistance Front that supports the Palestinian cause vis-à-vis global imperialism that backs the Zionist regime. Five years ago, he hailed Iran's support of Hezbollah as a strategic capacity in the great war, telling Raja it was the missiles stocked in Lebanon that prevented bombing of Iran's Bushehr and Fordow plants.
He served as a parliamentarian in the seventh Majlis from 2004 to 2008. In 2008, he once again served as deputy foreign minister for almost a year. In his account of the role of Israel, Saudi Arabia, Qatar, and other Arab states in Imad Mughniyah's assassination, he makes a passing reference to the Ahmadinejad administration's prevalent view of the Syrian regime in an interview with Khabar Online. "The administration believed that the Syrian government was a dictatorship, not a democracy, and thus did not need support from Iran," he said.
In the turbulent year of 2009, he was appointed as the advisor of Majlis Speaker Ali Larijani and the Majlis' director-general for international affairs.
Sheikholeslam's ambassadorship in Syria is not a novelty, either. He served as Tehran's ambassador to Syria for five years under the presidency of Mohammad Khatami. Early this year, Sheikholeslam's name appeared on a list of parliament candidates, dubbed Voice of Nation, a coalition of moderates.
Nearly two years ago in an interview with Principlist Ramze Obour (=Passcode) magazine, he elaborated on the Islamic Republic's position in the Syrian crisis. "At the beginning of the conflicts, [General] Soleimani passed the word of Supreme Leader to Assad that massacres should be stopped and reforms were necessary. Our declared stance was that of Syrian talks with no foreign intervention. The IRGC's Quds force had directly worked with Assad. On occasions we could not send missiles to Hezbollah on time, Assad would do using his own stock," he said. He argued that Bashar al-Assad was more democratic than his father, and that the bloody crackdowns were caused by lack of infrastructure in the country. "The moment a few people gathered, instead of a police crackdown, the army would open fire on them. There were no talks with the opposition. He just wanted to resort to force. We went there and developed the facilities to prevent the massacre. We built political forces to negotiate with the opposition," he added.
His reappointment as the Iranian ambassador to Damascus, just before the Lausanne Summit on Syria with Iran also a side, shows Iran's resolve to help end the crisis as soon as possible. What Iran is after is probably summed up in Sheikholeslam's interview with Al-Alam publish in late March 2013. "Iran seeks solutions that bring all the side involved to the table. We want Turkey, Jordan, Iraq and Lebanon as part of the solution to the Syrian crisis, so that there remains no grudge threatening the future of Syria when a solution starts to bear fruit".