Friday Prayers across Iran: Saudis, Syrians and Sacred Defense
Friday prayers on September 16, 2016.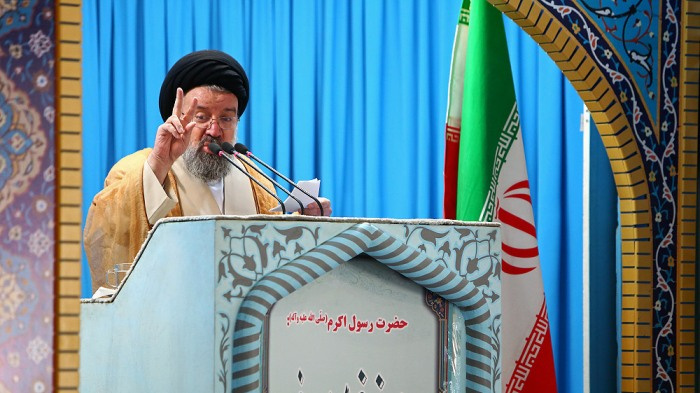 (Tehran's Friday prayers' leader Ahmad Khatami. Source: Saeid Rabiei/YJC)
Saudi Arabia's mischievous actions, ceasefire in Syria and Iran's military capabilities were the key themes of Friday prayers across Iran this week.
In Tehran, Ahmad Khatami slammed the Saudi household for its regional measures, particularly the war it waged on Yemen. "Since 280 years ago, when it came to power, Al Saud regime has opened its way by barbarity, murder and pillage" he said. "What you see in Yemen today is a showcase for three centuries of crime by the Al Saud". In Ilam, west of Iran, Friday prayers' leader complained about the government's lenient approach towards Riyadh. "One year after the bitter Mena [stampede] catastrophe, we have been consistently using the language of diplomacy. The Al Saud regime is totally unfamiliar with this language" said Mohammad-Naghi Lotfi. He asked the diplomatic apparatus to speak with a stronger tone vis-à-vis Riyadh.
Friday prayers' leaders across the country sounded cynical about the latest round of ceasefire in Syria between the army and the rebels, questioning the real intention of Washington, who, along with Moscow, mediated a temporary halt to armed conflict. "We welcome any measure that stops bloodshed in Syria" said Ahmad Khatami in Tehran. "But United States and its takfiri protégés have violated ceasefires time and again." The goal of the ceasefire is to give time for recovery to such groups Khatami added. Hassan Torabi in Boroujerd, west of Iran, iterated similar remarks. "The US is using the ceasefire to prevent terrorists' defeat" Torabi said. "They try to rescue terrorists from being defeated whenever [the government of] Syria is on the verge of victory."
On the anniversary of the start of Saddam Hussein's attack on Iran and beginning of the Imposed War/Sacred Defense, the eight-year Iran-Iraq war, and amid controversy over recent remarks by former President Akbar Hashemi Rafsanjani on the need to roll back the country's military programs, Friday prayers' sermonizers across the country stressed the need to reinforce Iran's defense capabilities. "That the range of our missiles has increased up to three thousand kilometers –in order to safeguard the country from threats- is a result of the Imposed War" said Abdolkarim Abedini in Qazvin Friday prayers. "The higher the range of our missiles, the smaller Imperialism's sphere of influence." Meanwhile in Khorramabad, center of Lorestan Province, Ahmad Miremadi also mentioned that the Sacred Defense proved the need to reinforce Iran's defense capabilities.