A Recap of Iran-Iraq Ties, Seen from Iranian Perspective
Former enemies are now brothers. Iran has proved it and now looks for opportunities for more trade, security, and environmental cooperation.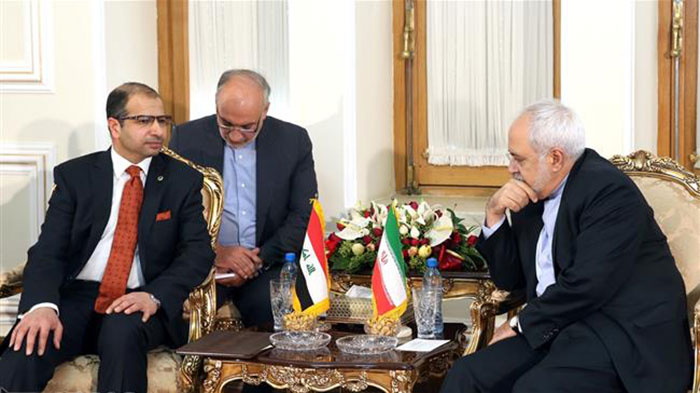 Almost a month before the thirty-fifth anniversary of Iraq's invasion of Iran, the two neighbors are strengthening what is seen as their renewed decade-long fraternity. Iraqi Parliament Speaker Salim al-Jabouri has just left Iran after a visit to discuss regional issues and see into possibilities for further economic cooperation, among them the purchase of construction materials for mass housing projects aimed at reconstructing a war-torn Iraq.
The visit has provided a good context for observers to reevaluate the mutual relations and finger points of future chances. Iran and Iraq share a border of 1400 kilometers, ten border crossings, and a five-million-plus of tourist exchange.
According to the latest figures, 1.6 million Iraqis have visited Iran last year. Only on last year's Arba'een, a Shia Muslim religious observance that occurs forty days after the Day of Ashura, some three million Iranians went on a pilgrimage to the holy city of Karbala, 100 kilometers south of Baghdad. Iran and Iraq boast their handling of the security of the Shia Iranian pilgrims, many of whom traveled on foot, in the midst of terrorist attacks undertaken by ISIS across Iraq. The sides have also revealed their will to abolish the visa regime. But that's not the only give-and-take between the two.
According to IRNA, Iran's commercial consulate said the annual non-oil trade between the two exceeds $6 b. The figure will become $14b if Iran's export of electricity, gas, and engineering services are also taken into account. And a further addition, that of Iran's investment in Iraqi infrastructure including power plants, gas pipelines and other giant projects, will make the size of trade even more remarkable.
The most recent update promises a brighter future. Iran has declared its intention to start gas exports to Iraq the next month, more than a year later than it originally planned. Shipments will start at 7 million cubic meters a day to supply a power plant in Baghdad, Hamid Reza Araghi, director of the National Iranian Gas Co., said in an interview with the Iranian Students' News Agency (ISNA). A second route to Basra will be opened in 2017, with shipments eventually reaching 70 million cubic meters a day.
Iran's deputy minister of industry, mines, and trade also called for memorandums of free trade to be signed, which could be commenced as preferential trade between the two countries. Speaking the Iraqi delegation, Valiollah Afkhamirad also said that reconstruction of regions taken back from ISIL needs planning and hard work, suggesting that Iranian companies can take a positive part in doing so.
In recent years, the sides have boosted their political alignment, too. Only a small token is that the sides have sent visiting delegations almost every fortnight in recent years, with their declared aims being expansion of mutual relations, implementation of previously signed agreements, or coordination. Iran's ambassador to Iraq has a record number of meetings with Iraqi officials, according to stats published by the Iraqi foreign ministry.
Following the aggravation of terrorist threats in June 2014, security coordination between the two countries has seen unprecedented levels, with Iran constantly stressing its military consultative role in Iraq's soil upon request by the country's officials. In addition, an Iran-Russia-Iraq coordination room was established to counter threats and increase security coordination. These are still apart from the Russia–Syria–Iran–Iraq coalition (RSII), also referred to as 4+1 (in which the "plus one" refers to Hezbollah), believed to be the strongest of its kind as a joint intelligence-sharing cooperation in the Middle East. Yet, Iran has fresh propositions up its sleeve. Iran and Iraq should create joint border committees in order to strengthen regional security, Iranian Armed Forces chief of staff, Major General Mohammad Hossein Baqeri, said Thursday. Different Iranian officials including al-Jabouri's opposite number Ali Larijani, Secretary of Supreme National Security Council (SNSC) Ali Shamkhani, and Foreign Minister Javad Zarif have stressed univocally that the Islamic Republic will stand by the Iraqi government and nation "under any circumstances".
These amicable ties are not limited to politics and economics. Iraq is the first country to host the premiere of Iranian feature films, Majlid Majidi's Muhammad: The Messenger of God and Ahmadreza Darvish's Hussein Who Said NO, both warmly welcomed not only by Iraqi cinemagoers but also by Shia and Sunni clerics. The two countries are coproducing projects in theater, cinema, and television while organizing joint art exhibitions to exchange experiences. The two Shia-dominated states are exchanging academics and students, in order to pave the ground for further scientific cooperation.
Iran and Iraq are now engaged in efforts to counter certain atmospheric and environmental phenomena, most notably including dust coming eastward from Saudi Arabia and Iraq, making it difficult for millions of Iranians to breathe. As the suffering side, Iran has apparently given up hope, as remedies at hand need huge investments and Iraq has more important concerns for the time being.