Iraqi Shia Leaders Ignore Iran's Advice
Iraq's Muqtada al-Sadr and Nouri al-Maliki slip away from Iran's hands, fueling tension in Baghdad in search of their own quotas.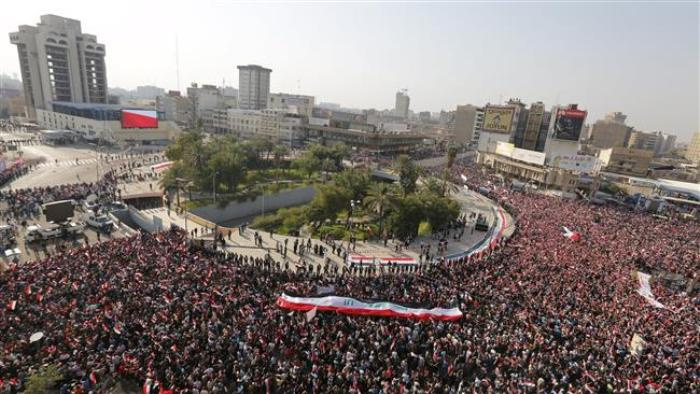 By: Ali Mousavi Khalkhali
Iraq is not having good days. Following an intense economic, social and security crisis ruling over the country for about a year, a new political crisis is now introduced. Iraqi Prime Minister Haider al-Abadi has pledged to form a technocrat government regardless of political and sectarian quotas but there are groups that try to disrupt his efforts, having managed to block his government's vote of confidence. Adherents of Muqtada al-Sadr and Nourial-Maliki are frontrunners of sabotage efforts against the formation of al-Abadi's new technocrat government. They have called parliament sessions off and organized sit-in strikes during the parliament's open sessions to prevent sessions from makinga quorum. They chant and disrupt, to prevent the Parliament Speaker Salim al-Jabouri from officiating sessions and al-Abadi from coming to an open session to receive vote of confidence for his new cabinet.
The Sadrist Movement and State of Law Coalition led by Nourial-Maliki have voiced their emphasis on the formation of a technocrat government but are openly in pursuit of their own shares. Muqtada al-Sadr, who has on the surface organized demonstrations in defense of the nation, is secretly threatening political officials and authorities to instigate riot if he cannot receive his quota in the new government, blocking the country's political transition. The al-Maliki branch of the Islamic Dawa Party, which leads the State of Law Coalition in the parliament, has publicly stated that upon al-Abadai's dismissal, al-Maliki will be the party's candidate for prime ministry. Thus, al-Maliki will obviously struggle against the status quo and try to get into power. In doing so, he will spare no efforts and pay no attention to anyone's interests.
On Saturday, proponents of Muqtada al-Sadr stormed the Iraqi parliament, tried to occupy the building as well as the Green Zone and even beat some of the MPs, leading Baghdad Operations Command to declare a state of emergency. The Parliament intended to hold a session to give votes of confidence to the new ministers but postponed the session to Tuesday. The United Nations closed all its offices in Baghdad and families of its representative have been granted asylum in certain embassies inside the Green Zone.
Expectations from Iran and the US
These take place while it is widely believed that Iran and the US have the final say in Iraq and proceed with the country's affairs indirectly through mutual agreements. It is said that the Saudi Arabia is completely put aside from the political scene and has no influence over Iraq except for the occasions on which it takes disruptive measures. A question that has popped up for many is why Iran and the US do nothing in Iraq to end the current crisis in the country using their own influence. Doubtlessly, if ISIS is harnessed in Iraq and the terrorist network has not been able to make advances but is losing more and more territory instead, it is because of Iran's effective presence in the country, bringing the so-called Islamic State on a tight leash. On why the US influence in Iraq is not working, we should not forget that the US had abandoned the political scene in Iraq in the last few years and has just returned in recent months to start fresh action. In other words, the US has apparently revisited its Iraq policies and taken into account a comeback to the country. In the absence of the United States, there has not been enough hegemony and coordination between political groups and Washington to expect the latter to have an influence on Iraq's political developments.
Speaking about Iran, an informed source in the Foreign Ministry told Iranian Diplomacy that al-Maliki and Muqtada al-Sadr are not acting according to Iran's directives now. "Muqtada al-Sadr and Nouri al-Maliki are like fish that sometimes slip away from the hands of Iran. The truth is the two are not playing in Iran's roadmap unlike many Shia groups. On the other hand, groups formerly acting without coordination with Iran's consultations are now listening to us, trying to keep the atmosphere peaceful," he said in his analysis of the status quo in Iraq.
"Before the Saudis assigned an ambassador to Baghdad, they had no stimulus in the country. Since then however, they have commenced new moves in the country. The Saudi ambassador is now so active in Iraq that gets involved in the country's slightest affairs, even at lowest levels. Thus, we should not imagine that they have no moves in Iraq. On the contrary, they have new plans they seek to implement," he said, speaking of the Saudi Kingdom's role in Iraq.
The state of the affairs in Iraq is becoming more and more tense. For the sake of his own forward escape and secure political zone, Muqtada al-Sadr has run riot while Nouri al-Maliki is doing his best to utilize the situation and return to power. Many analysts and experts believe there is no bright future on the horizon for Iraq. The informed Foreign Ministry source says: "Iraq has difficult days ahead and the political situation will get worse."