Air France Flight Lands in Iran after Eight Years
Amid renewed hopes to turn Tehran into Middle East's primary flight hub, the French airline resumes flights to Iran's capital.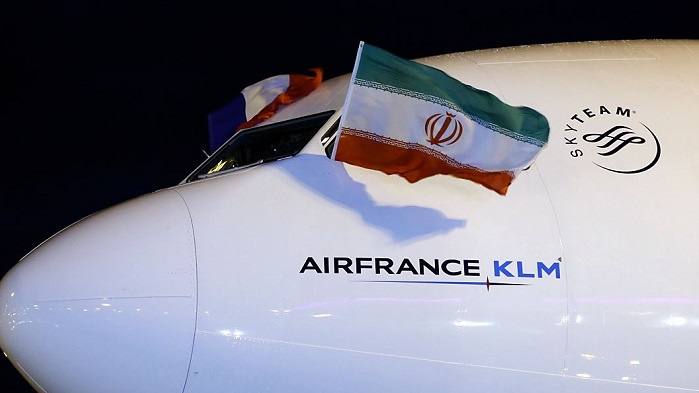 On Sunday night, Air France landed in Iran's Imam Khomeini International Airport (IKIA) after eight years of hiatus. Along with a number of other European airlines, France's flag carrier had stopped flying to Tehran in 2008 as world powers tightened embargo against Iran over its controversial nuclear program.
Flight AF738 which touched down at IKIA on Sunday night at 2000 local time carried French Transport Minister Alain Vidalies along with a small delegation of French officials and businessmen of transportation sector. Vidalies said he was "proud of the resumption of these direct flights" upon arrival in Tehran, while Air France's chief executive Frederic Gagey spoke of his "great pride in returning to Iran". Ad for the flight had appeared in the government mouthpiece Iran Daily a couple of weeks earlier. The airline intends to hold four flights per week between Tehran and Paris.
Air France's decision to resume flights made controversies inside the country. An internal memo that had instructed the flight crew over the appropriate dress code during flights to Tehran raised objections, though similar cautions have been practiced during flights to the conservative Saudi Arabia.
Iran has long been harboring plans to turn into the region's flight hub. During the reception ceremony of French officials on Sunday night, Kashani, deputy transportation minister in international affairs, reported of negotiations with the French to construct a new passenger terminal in Imam Khomeini airport .A 25 billion euro agreement to buy 118 Airbus airplanes was inked during Rouhani's visit to Paris. Iranian news media recently reported of a visit by American Boeing to negotiate a possible sale of 737, 787 and 777 aircraft/. This happens against decades of ban of aircraft sale to Iran. However, with tough rivals like Dubai and Istanbul already ahead of the game, it takes Tehran an uphill battle to become close to a popular flight hub in the Middle East.
IRD/66