SWIFT or Not SWIFT?
Rouhani's government finds it hard to convince the critics that Iran is connected to the global money transaction system.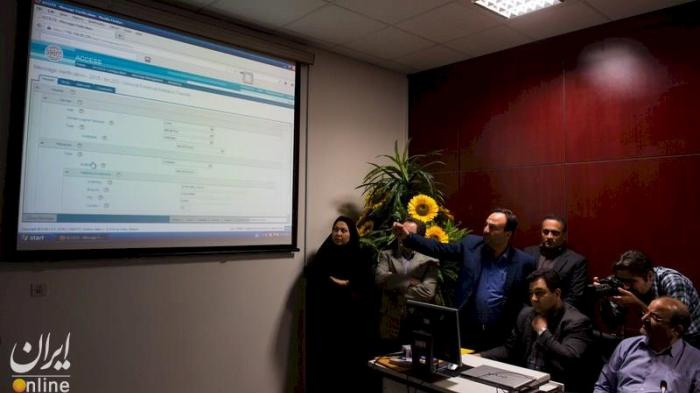 (Central Bank staff presenting the SWIFT system for jouranlists. Photo: Ali Mohammadi/Iran Daily)
nce the most "biting" of nuclear sanctions, SWIFT has now become the most contentious de-sanctioned item in the propaganda battle between Rouhani's government and its critics. Is SWIFT, Society for Worldwide Interbank Financial Telecommunication, a global platform for transmission of money and letters of credit, now working for Iran? While the government's response is affirmative, the hardliner media do not seemed convinced, still insisting that JCPOA has born no fruits for Iranians, but only deprived them of nuclear technology.
During the controversial sessions held by Majles', the Iranian parliament's, special committee for JCPOA in October 2015, former chief nuclear negotiator Saeed Jalili, claimed that the nuclear deal will not open the way for Iran's financial institutions to reconnect to SWIFT, of which it was cut off in March 2012, despite the letter of the JCPOA which spoke of "[s]upply of specialised financial messaging services, including SWIFT, for persons and entities set out in Attachment 1 to Annex II, including the Central Bank of Iran and Iranian financial institutions".
The suspicion has lingered since then. Hardliner media have even claimed that Rouhani's recent cancellation of his Vienna visit was due to this challenge, and the Austrian President Heinz Fischer's admission that Iran is not still connected to the critical transaction lifeline.
On Saturday night, Abbas Araghchi, head of the committee in charge of monitoring the JCPOA's implementation, appeared on state-run TV to assure Iranian business that SWIFT is active for Iranian banks. "Any media that has doubts [over the issue] can refer to the SWIFT chamber of the Central Bank and see how SWIFT messages are transmitted," he said, though he acknowledged that dollar transactions are still inaccessible for Iranians due to Washington's 'primary' sanctions.
Central Bank was significantly responsive to Araghchi's call, and on Monday April 4, 2016, the media visited the Central Bank upon invitation to see how SWIFT is up and running for Iranian financial insitutions. Director General of the International Affairs Department at Central Bank of Iran Hossein Yaghoubi assured the visitors that Iran's banking system is now reconnected to SWIFT, though he explained that transaction through SWIFT is a matter of mutual interest and international banks should be willing to cooperate with their Iranian counterparts.
Donya-ye Eqtesad, leading economic daily, tried to clarify on post-JCPOA SWIFT difficulties. Unwillingness of major Western banks to establish interbank ties with Iran due to Washington's possible draconian punishments, post-2008 economic crisis regulations that have set strict conditions for fiscal transactions, and Iranian banks' unfamiliarity with new SWIFT rules as three major reasons why the reintegration process will take longer than it seems according to the newspaper.
Hardliner media seemed unmoved however even after the Central Bank tour. "Twenty major merchants deny connection to SWIFT" wrote the hardliner website Nasim on the day of the visit, citing senior members of industrial and agricultural guilds, though nearly half of the respondents had stated SWIFT is working on some level while there are serious problems. Rajanews, a major hardliner website, covered the news of Central Bank visit by this headline: "Dollar-based SWIFT Still under Sanction".
IRD/66