The Show Must Go On
As Iran is yet to know a third of its next parliament's lawmakers due to the need for run-offs, campaigns do not stop whatsoever.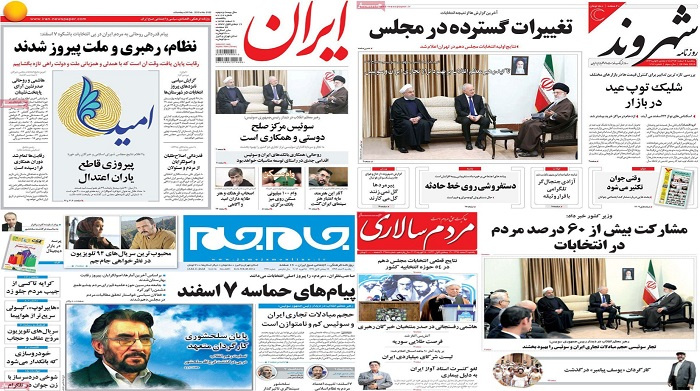 Held on Friday, "a healthy, legal and very good election," in the words of Iran's Interior Minister, Abdolreza Rahmani Fazli, is still hard to interpret, as many seats in the parliament will be decided in run-offs expected in little more than a month. What makes it even harder to look into is a series of incongruous and confusing analytics hitting headlines every hour, with each piece trying to show an affiliate faction has won more seats than rivals have. The epidemic rapidly spread to dissident and or foreign media, showcasing a volatile political divide that has led to evading true reverence for the public opinion cast into ballot boxes.
According to a diagram published by Khabar Online, a leading principlist website, a list proposed by the faction has won 33 percent of the seats so far decided in the tenth parliament while 31 percent of the next parliament's lawmakers come from the reformist camp. Thirty percent of the vacancies has gone to independents while the remaining six is composed of five from the 'People's Voice Coalition' list and one for those present in all the three. The account the Iranian Labor News Agency (ILNA) offers of the election results slightly differs from that of Khabar Online. A similar pie chart watermarked 'ILNA' gives the reformists and independents each 32 percent of the seats, whereas principlists have accordingly won 36 percent. ILNA is traditionally considered to be close to the reformists.
Here on Wednesday, Iran, the official newspaper for Iran's administration, has also put some figures on its cover page; lists of 'hope', principlists, People's Voice, and independents have ushered respectively 40, 29, 5 and 24 percent of the would-be MPs in the Majlis. This is in sharp contrast with what went out in print on the cover of Kayhan, a conservative newspaper; a vague pie chart which read "results of the tenth parliamentary election divided by political orientation".  The quadripartite chart credits the principlists with 48 percent of the seats while moderates are handed the smallest share with 5 percent. Surprisingly however, reformists stand second with thirty percent. The penultimate group was the independents with 17 percent, according to Kayhan.
Dissident and banned media suffer from the same inconsistencies. Kalameh, a website close to former presidential candidate Mir-Hossein Mousavi who is now under house arrest following a controversial election in 2009, also published a table which claims those hopefuls solely in the 'List of Hope' have won 84 seats (about 29 percent) in the next parliament, while those solely included in the lists proposed by the principlists have achieved 65 seats i.e. 22 percent. The two sides have one common nominee elected. Independents have achieved 72 seats in the parliament and 68 seats will be decided in run-offs expected in April, after the Persian New Year holidays. A chart published by BBC Persian is slightly different but more or less the same. An unofficial tally by Reuters of first round results for the 290-member Majlis (parliament) show conservatives won about 112 seats, reformists and centrists 90 and independents and religious minorities 29.
These loosely varied figures indicate that the campaigning battle has not come to an end yet, and ethics have no place when it comes to politics in Iran. A side previously alleging rivals of treason and cooperation with foreign intelligence agencies is now not only calling citizens of the capital corrupt, dissidents and traitors as they used all their ballot potential to deprive them of any seats in the parliament, but also labeling its own defeat an 'illusion of victory' on the rival's part.
Things we can be sure about? The election did come up as "a further slap in the face for Iran's hardliners," as the Guardian noted and the reformists are coming back after more than a decade being marginalized by opponent principlists.
"This election can be a turning point in the history of the Islamic Republic," said an editorial in reformist newspaper Mardomsalari, whose managing editor, Mostafa Kavakebian, won a parliamentary seat in Tehran. "The biggest achievement of this election is the return of reformists to the ruling system ... so they won't be called seditionists or infiltrators anymore," he said as quoted by Reuters, referring to hardliners who accused reformists of links to the West.
The parliamentary election has attracted more than 32 million voters, a sixty-two percent turnout, that clearly shows the voters have sensed the critical situation inside and outside Iranian borders. A coalition of moderates and reformists did better in large cities, with their 30-0 victory in the capital, whereas the principlist coalition nominees have seen public sentiments in their favor in smaller towns and underprivileged districts.
However, the New Yorker's conclusion still seems true to life for the whole nation. "Iranians voters have signaled that they want relief, not more political infighting at home or confrontation with the outside world."