How Long Will Turkey and Qatar's Soft Coalition Last?
An essay by Seyyed Abbas Rahmani Khezri, an expert on Middle Eastern affairs, for ISNA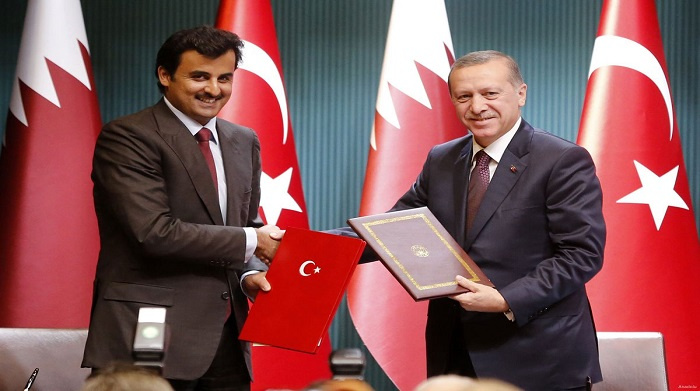 During recent years, Turkey and Qatar have experienced political, economic and security relations which could be called a "soft coalition" between the two parties. This coalition is formed between an important country of the region with considerable political capacities and a growing economy and a relatively small country with financial possibilities and huge wealth which is ambitious and dreams of becoming one of the main players of the region.
The following points should be mentioned with regard to the effective elements behind the closeness of these two countries and the future of their relations:
Grounds for the gradual development of relations between Turkey and Qatar
Following the developments of the Arab Spring, Qatar and Turkey played complementary roles in supporting the political Islamic movements of the region particularly the Muslim Brotherhood and intended to create a balance between them while changing regional coalitions.
Using the policy of Rial diplomacy in Qatar's outside movements to speed up its ambitions and follow an independent policy from Sunni Arab powers like Saudi Arabia and Egypt.
The rivalry between Turkey and Saudi Arabia for leadership of the Sunni world.
The gradual inclination of a group of Turkish elites to leave Ankara's observing role and moving towards mediation in regional developments and acting as a trustworthy party.
Providing mutual needs. There is no doubt that Turkey's economic motivations to provide energy have impacted the speed of relations between the two countries. Turkey imports 60 billion dollars of oil and gas every year which could only provide one third of it. But since it has numerous water resources and fertile lands, it could provide Qatar's food security. Furthermore, Turkey has also dispatched a great number of its skilled forces to Qatar.
Qatar's support of Turkey to establish a common trade region with the member countries of the Persian Gulf Cooperation Council and their close relations caused Doha to vote for Ankara, instead of the UAE, to host the international EXPO.
Increasing Trend of  Visits
In December 2013, Erdogan made a one-day visit to Qatar to open the new building of Turkey's embassy in Doha in an official ceremony with the presence of high-ranking officials from Qatar.
One year later, Sheikh Tamim, the Emir of Qatar, directly wert to Ankara after his visit to New York and met with Erdogan.
In March 2014, the Qatari Emir made an unexpected visit to Turkey and met and conferred with Erdogan for two hours behind closed doors. It was reported that they discussed the issues of northern Syria and relations with Saudi Arabia in this meeting. Due to the speedy expansion of relations between Turkey and Qatar, their interests are tied to each other more than ever before.
Diplomatically, the mutual visits of the leaders of countries within a short period of time indicate the political will of the leaders to expand relations. According to Qatar's ambassador to Turkey, these visits have reached an exceptional level and there is now a harmony in the policies and thoughts of Turkey and Qatar.
Turkey's ambassador to Qatar has also stated that Turkey and Qatar have excellent political relations.
Turkey and Qatar have a strategic coalition to support the Muslim Brotherhood. At first, they expressed their opposition against al-Sisi's government but later, due to the pressures exerted by the Persian Gulf littoral states, Doha reviewed its position and opened a new chapter in its relations with Egypt.
Turkey and Qatar have common views regarding the regional crises including Syria, Libya and Iraq. In their joint press conference, both Sheikh Tamim and Erdogan reiterated this issue. Besides showing the political will of both leaders to have the highest level of relations, these continuous visits have had significant achievements for both sides, the most important of which are as follows:
-The establishment of the committee of strategic cooperation at the highest level to advance relations in political, economic, technological, etc. areas.
-Signing of a military cooperation pact
-Signing of an agreement to export 1.2 billion cubic meters of gas to Turkey for the winters of 2014 and 2015.
-Strengthening cooperation and plans to help terrorist groups in Libya and Syria; both Turkey and Qatar are staunch supporters of military intervention in Syria and it is said that they have even offered the US to form voluntary Sunni groups.
In order to implement no-fly zones in parts of Iraq and Syria, Turkey needs the political support of Qatar. By doing so, while providing the security of the Takfiri groups in Iraq, it could exert pressure on Fuad Masum, Iraq's President, for more political participation of the Sunnis in the power structure of this country.
In the end, it can be said that although there has been no open opposition among the Persian Gulf Cooperation Council  member states with regard to the close relations between Doha and Ankara, the weakening of the Arab moderate axis to the benefit of a non-Arab state which has, hitherto, been on the sidelines of world developments could increase the concerns of some Arab parties including the UAE  which at the present time has chosen to be silent due to the situation of the region. Therefore, it is not expected that the close relations between Turkey and Qatar would lead to a structural coalition in the region because the changing of conditions could damage its stability.
Recent positions taken by Turkey including its refusal to cooperate with Saudi Arabia in Yemen and the continuation of its covert and overt contacts with the Muslim Brotherhood and Saudi Arabia's pressure on Qatar to agree with the Conference of the Council's leaders in Doha would make the expansion of the Turkey-Qatar axis to the Arab region difficult or impossible.
On the other hand, the UAE could be one of the Arab parties of the region which would be concerned about the inclination of Turkey and Qatar toward the Muslim Brotherhood. Statements made by Abdul-Khaliq Abdullah, a prominent political science professor of Emirates University and a friend of Sheikh Muhammad Bin Zayed could strengthen this speculation. He believes that Turkey does not agree with Saudi Arabia in recognizing Iran as the biggest threat of the region, hence, it does not intend to participate in the anti-Tehran Sunni axis and prefers to have peaceful coexistence with Iran.
These statements are made while Anwar Qarqash, the UAE Foreign Minister, has also said that Turkey's negative role and its interferences in Arab countries along with its ideological inclinations are growing day by day.