The Quintessential Conservative
Alireza Zakani comes from the very core of Islamic Republic loyal base, and can prove more influential in the upcoming years, as his anti-corruption agenda might appeal to the public.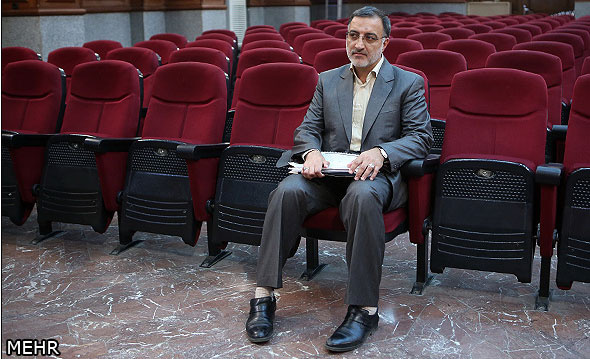 Iranian Diplomacy- A biography of Alireza Zakani, published by a conservative political alliance with the pompous title "The Islamic Revolution's Epic-Makers' Front", opens with verification of two basic qualities every Iranian politician could boast of: that he was born in a pious family, and in southern (less prosperous) part of Tehran. The biography also reminds of his 'revolutionary presence' in all fields of activity, from the eight-year war against Iraq to his step-by-step promotion in the Student Basij Organization by 'his trust in God' and his own capacity, to his confrontation with 'sedition' –that is, the Green Movement, 'deviation' –the inner circle of Mahmoud Ahmadinejad led by his Chief of Staff Esfandiar Rahim Mashaei; and corruption.
Alireza Zakani is a prominent figure among the second generation of the Iranian conservative camp, a generation that asserted its role in Iranian politics after their patrons lost four successive elections to the Reform movement in the late 1990s. In the early 2000s, the younger generation, now united under the title of Principalists –intended to differentiate them from Reformists by showing their loyalty to principles of the Islamic Revolution and Islam- made a shift in their discourse, stressing the issues of justice and welfare, criticizing what they regarded as the Western, irrelevant project of 'political development' followed by Mohammad Khatami and his fellow Reformists.
Zakani started his upwardly mobile trajectory within the Principalist camp since the mid 90s inside the academia. The Reform movement, with a solid base among the educated youth, had a powerful presence in the universities, and the traditionally left-leaning Islamic Association of Students functioned as its powerful arm in mobilizing the students for the cause. Against this prominent presence, Zakani and Co. led the Student Basij Organization which had established ties with the conservative camp, and served as a vocal critic of the Reformists up until their virtual marginalization in Iranian politics in 2005.
The resurrection of conservatives started from the days when they seemed to be at their weakest position, that is, with the start of Mohammad Khatami's second presidential term in 2001. The right had started a face lift, shifting its discourse from abstract revolutionary ideals towards down-to-earth matters of social justice and economy (as evident in the candidacy of left-leaning Ahmad Tavakkoli in 2001, as opposed to the nomination of the conservative patriarch Akbar Nategh Nouri in 1997), rejuvenating itself by embracing new political figures, many of them with military backgrounds. At this time, the term Principalist came to replace the term 'right wing' in Iranian political discourse to define their identity.
Victory started from the Second City Council elections in Tehran, when, disillusioned with the excessive politicking of the first Reformist-dominated council, Tehrani citizens, or any for that matter, as their turnout had dropped to one-third of the previous election, overwhelmingly voted for the Principalist alliance called Abaadgaraan-e Iran-e Eslami (Builders of Islamic Iran) in what was known as one of the most democratic elections in the later history of the Islamic Republic of Iran. In February 2004, Abaadgaran secured a strong parliamentary majority, this time in a competition which hardly saw any strong Reformist opponent as they were already disqualified for running by the conservative Guardian Council. Zakani entered the 7th Parliament from Tehran constituency, along with 29 fellow Principalists, promised to fight corruption and bring justice, perhaps envisaging, as famously, but erroneously, attributed to Gholam-Ali Haddad Adel, the speaker of the parliament, "an Islamic Japan". At the parliament, Zakani was head of a committee formed to investigate the records of academic mega-conglomerate Islamic Azad University, a position which brought him not his last serious confrontation with then powerful Tehran Prosecutor Saeed Mortazavi. Jahan News, the news website associated with Zakani, was once blocked by the order Saeed Mortazavi in 2008, as the battle between the MP and the PG over Islami Azad University became heated.
Principalists' rollercoaster ride in Iranian politics continued afterwards. In 2005, to the surprise of many political analysts, Mahmoud Ahmadinejad, the relatively unknown mayor of Tehran, unexpectedly defeated old guard Akbar Hashemi Rafsanjani by a margin of 7 million votes. The election campaign had started unpromisingly for the Principalists, who, despite enormous backstage and on-stage bargaining, had failed to seal consensus over a single candidate. Zakani served as campaign director for ambitious Bagher Ghalibaf, who, with his outstanding record in the police force, believed that he could easily secure the presidential post. The ex-police chief failed to get to the run-off round; however, and in the polarized competition between Rafsanjani and Ahmadinejad, Zakani joined the electoral campaign of the latter, who, like him, belonged to the younger generation of the Principalist camp after all, not the older generation who still viewed Hashemi as a patron.
The ebb and flow of Zakani-Ahmadinejad relations was in tandem with the general mood of the Principalist camp from 2005 to 2013. The full force support for Mahmoud Ahmadinejad by the conservatives declined step by step, despite a lukewarm support for him in 2009.  Zakani played a leading role in investigating post-election violence, once again falling in a verbal fight with Saeed Mortazavi, whom, despite his fierce denials, Zakani introduced as the primary culprit for death of four detainees in the notorious Kahrizak Camp.
With Ahmadinejad's fall from grace in the Spring of 2011, after he disobeyed Supreme Leader Ayatollah Khamenei over reinstating his intelligence minister, Zakani and others accelerated their dissociation from the president, witnessing his sharp policy shifts. Jahan News played an active role in directing allegations of financial corruption and political 'deviation' towards the inner circle of Mahmoud Ahmadinejad, including his Chief of Staff Esfandiar Rahim Mashaei, his deputy Mohammad Reza Rahimi and a number of their close associates.  "A person whose entourage is immersed in corruption cannot claim fight against corruption" he said in spring of 2013, as Ahmadinejad's presidential term was coming to an end and hardliners found it detrimental to support him anymore. Zakani was rewarded with counter-allegations, accused of violating academic regulations during his study of medicine in Tehran University, and mocked for his low grades in high school, according to documents published by pro-Ahmadinejad media. Later in April 2013, as Zakani was floating the idea of entering presidential elections, another document was released, a contract for 430 thousand USD between the Islamic Development Organization and Panjereh, a weekly published by Zakani, to "support cultural and religious activities" through "increasing religious and political insight", among other responsibilities.
Zakani was disqualified from running for the election by the Guardian Council, most likely not because his credentials were deemed inadequate or non-reliable, since Zakani is a quintessential Principalist, and comes from the very core of Islamic Republic loyalist base; but perhaps because the Council -usually refusing to explain the disqualifications- thought that with presence of Principalist candidates like Saeed Jalili, Gholam-Ali Haddad Adel or Baqer Qalibaf, the presence of Zakani would add not so much flavor to the competition. He received the ban graciously, announcing his support for "both" Jalili and Haddad Adel, probably believing that they could by the ones capable to advance his visions of "Islamic development" and "foresighted resistance" for the country, and returning to his parliamentary seat. Zakani has already accumulated adequate political and revolutionary credentials beside holding at his arm two relatively influential media, Jahan News and Panjereh Weekly. With the typical periodic shift of politicians' and public discourse in Iran, one could predict that Zakani can play a more influential rule by the end of Hassan Rouhani's first (and perhaps second) presidential term, with a swing in public taste from Rouhani's economically liberal discourse, towards an anti-corruption, pro-justice agenda, perhaps one not unlike the shift at the end of Khatami's second term, which brought Mahmoud Ahmadinejad to power.
By: Ali Attaran