End-of-June deadline arrives in Iran-P5+1 talks
The deadline has arrived for Iran and the P5+1 for the potential conclusion of a comprehensive deal on Iran's civilian nuclear program, with senior diplomats from both sides expected to hold sensitive talks in their last push to reach a deal.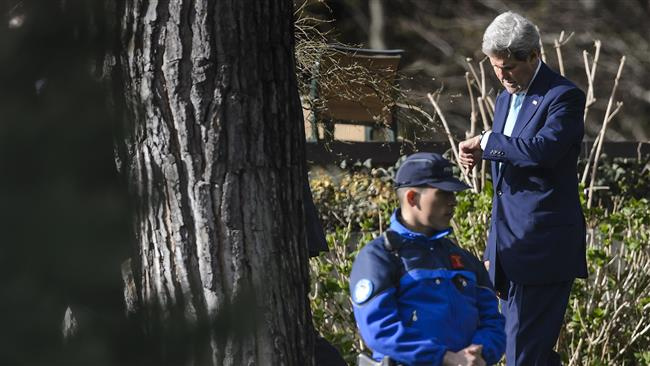 While there has been a lot of media speculation, there has been no definitive indication yet that the talks may have to stretch past the deadline. Iranian officials have previously said that all sides are focusing on the June 30 date.
On Tuesday, Iranian Foreign Minister Mohammad Javad Zarif, who had returned home late Sunday, headed back to Vienna, Austria, which has hosted the latest round of the intensive nuclear discussions between Tehran and its negotiating partners.
Ali Akbar Salehi, the head of the Atomic Energy Organization of Iran (AEOI), and Hossein Fereydoun, the special assistant to Iran's President Hassan Rouhani, are also accompanying Zarif.
In remarks made to Press TV upon his arrival in Vienna, Zarif said the Iranian side has the necessary "political will" in the negotiations, adding, "I believe our negotiating partners have recognized the fact that only a balanced and respectable resolution and agreement is sustainable; otherwise, the people of Iran will not accept it."
Later, the Iranian foreign minister met with US Secretary of State John Kerry. A meeting with Russian Foreign Minister Sergei Lavrov is also scheduled.
Years of negotiations
The nuclear talks have been going on for over 12 years. Iran's original negotiating partners were the UK, France and Germany, a group known back in 2003 as the E3.
The talks gained greater momentum under the administration of President Rouhani, who tasked the Iranian Foreign Ministry – under Zarif's watch – with handling the talks soon after assuming office in 2013.
Previously, Iran's Supreme National Security Council (SNSC) had been in charge of the talks.
A feat for diplomacy
In late November 2013, Iran and the P5+1 group – Russia, China, France, Britain, the US and Germany – reached a historic interim accord aimed at resolving the longstanding dispute over the Iranian civilian nuclear program.
Under the deal, dubbed the Geneva Joint Plan of Action, the six countries undertook to provide Iran with some sanctions relief in exchange for Iran agreeing to limit certain aspects of its nuclear activities.
Since then, Tehran and its negotiating partners have held numerous rounds of talks in a bid to narrow their differences and reach a comprehensive final agreement.
In early April, the two sides reached mutual understanding on the key parameters of the potential deal, dubbed the Joint Comprehensive Plan of Action (JCPOA), in the Swiss city of Lausanne.
The understanding serves as a basis in the efforts currently underway to draft the JCPOA text.
Press TV