Tehran's Daily Newspaper Review
Tehran's newspapers on Saturday 7th of Aban 1390; October 29, 2011.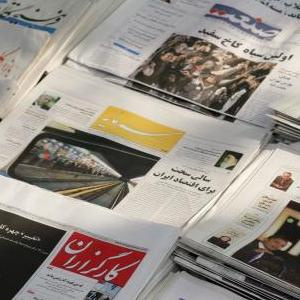 Etemaad interviewed Captain Houshang Shahbazi, the IranAir pilot who created a masterful spectacle by landing without nose gear at Mehrabad Airport of Tehran, saving the lives of tens of passengers in a 40-year old Boeing (watch here). "Iran snubs Hillary Clinton," reported Etemaad, covering the reactions to Hillary Clinton's remarks in her interviews with BBC Persian and the Persian Service of Voice of America on Wednesday. "No one buys Mrs. Clinton's remarks in Iran," wrote former MP and owner of the newspaper Elias Hazrati in the newspaper's editorial. All Iranian political groups agree on standing against the US, Hazrati said, adding that only if the US shelves its dual policies and sanctions is there a chance that there might be a willingness inside the political system to reconsider negotiations with Washington.
"Some are seeking the creation of a challenge in the [parliamentary] elections"- and a decrease in massive turnout- scheduled for December, Iran quoted head of the Interior Ministry bureau Sowlat Mortazavi. "Islamic/non-Islamic bifurcation of science and knowledge is a diversionary issue," the newspaper quoted President Ahmadinejad.
"Two other suspects linked to the grand banking embezzlement were detained" Jomhouri-ye Eslami cited Prosecutor General Mohseni Eje'i. The newspaper also reflected reactions by Ali Larijani and Foreign Ministry Speaker Ramin Mehmanparast to Hillary Clinton's remarks. While criticizing the US Secretary of State's remarks, the newspaper's editorial lamented the opportunity lost by Iranian state-run TV to focus on Green Movement supporters' opposition to foreign intervention in response to Clinton's remarks, and its counter-productive effort to link the movement to the US.
Kayhan reflected remarks by a former Israeli Major General, Giora Eiland, to report on the Jewish state's grave concerns about the resurgence of political Islam in the region. Kayhan's editorial called Hillary Clinton's televised interview "another praiseworthy(!) show by a stupid foe," which proved the US' support for the post-2009 election seditionists, the absurdity of Washington's allegations against the Iranian Quds Corps (plotting to murder the Saudi Ambassador to the US) and the White House's inherent paradox in imposing sanctions which mainly target ordinary Iranians, those that Washington claims to be supporting.
Resalat deemed the EU Parliament's call for Saudi forces' withdrawal from Bahrain "a belated reaction". Calls for the assassination of top IRGC leaders by former CIA agent Reuel Marc Gerecht, now a member of the Foundation for Defense of Democracies think-tank, and protests in Manama were also covered by Resalat.
Shargh interviewed Ramin Mehmanparast, who claimed that no one defends the way former FM Manouchehr Mottaki was fired from his position (during a visit to Senegal), but called it a mishap perhaps because of a mistake in the presidential office. Reactions to Hillary Clinton's remarks and the arrest of the vice president of the Central Bank on account of the recent 2.6 billion dollar scandal, were other news appearing on the front page of the newspaper. The editorial was written by Sadegh Zibakalam, who argued that despite all the criticisms, liberal democracy and market economy is resilient and will not fail despite the unrest.
Tehran-e Emrooz' top news was an interview with Masoud Dehnamaki, film director and once leader of a certain strand of pro-IRI vigilantes, who had criticized a fellow director, loosely in the same political camp, Farajollah Salahshour, for calling Iranian actresses 'prostitutes', a slander he later denied to have uttered. Ayatollah Jannati's Friday remarks warning parliamentary election candidates on lavishing expenditures to grab a seat in Majles also appeared on the front page. Tehran-e Emrooz also reported that the government spent nearly 3863 billion Tomans on Tehran citizens for funding civil and traffic projects. The newspaper's editorial criticized calls within the US' political circles to assassinate Gen. Qasem Soleimani, head of the Sepah-affiliated Quds Corps. In harsh tones, the author warned Washington of Iran's severe revenge should the Americans think of murdering Revolutionary Guards commanders.
Vatan-e Emrooz also focused on calls for "physical elimination" of Iranian military commanders with the headline "Assassination plan on Obama's table." The results of Tunisia's election, US police's rough treatment of Occupy Wall Street protestors and the appointment of the new Saudi crown prince also appeared on the front page.
* Notes:
The editorial section of Iranian newspapers is not the work of the editor-in-chief or the senior editorial staff of the newspaper by default, but can be a contribution by experts and politicians (typically agreeing with the newspaper's political stance.) The newspapers may also occasionally publish without an editorial.
Vatan-e Emrooz daily does not publish on Thursdays.
Trouble with understanding some terms? Check our Glossary of Iranian Political Terms.
Briefing
Etemaad is a Reformist newspaper owned by former MP Elias Hazrati. The newspaper supported Mehdi Karroubi in the 2005 and 2009 elections. In 2010, it was temporarily banned from publishing (for a three-month period) by the Judiciary.
Iran is the official organ of the administration. Its current editor-in-chief is Ali-Akbar Javanfekr, former media advisor to President Mahmoud Ahmadinejad.
Jomhouri-ye Eslami (The Islamic Republic) was known as the official organ of the Party of the Islamic Republic, founded in 1979 and disbanded in 1987. Currently, it is an open critique of Mahmoud Ahmadinejad's policies and is known to be a mouthpiece of Akbar Hashemi Rafsanjani.
Kayhan (Universe) is a hard-line conservative newspaper. Its editor-in-chief –currently Hossein Shari'atmadari- is directly appointed by Iran's Supreme Leader. Shari'atmadari's editorials often spark off controversy and debate inside Iranian political circles.
Resalat (Mission) belongs to the moderate wing of the Principlist camp. Resalat's best known analyst is Amir Mohebbian, its political editor.
Shargh (East) is a moderate Reformist newspaper. It was the most popular and influential Reformist newspaper in its first period of publication which lasted from August 2003 until September 2006.
Tehran-e Emrooz (Tehran Today) is a "Principlist/Reformist" newspaper, connected to Mohammad Baqer Qalibaf, Tehran Mayor and a likely candidate of the 2013 presidential election.
Vatan-e Emrooz (Motherland Today) is a supporter of the president's policies.